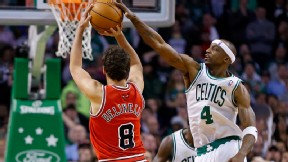 Greg M. Cooper/USA TODAY Sports
Jason Terry comes up with the big block to help the Celtics emerge with a win on Wednesday.BOSTON -- For the past three weeks, Jason Terry has not-so quietly stewed over the game-winning jumper that Chicago's Marco Belinelli produced over him during an overtime triumph at TD Garden last month. So when the ball improbably bounced to Belinelli behind the 3-point arc in the final seconds of a two-point game during Wednesday's rematch, Terry's eyes bulged in an 'are-your-serious?!' kind of moment.
Terry swooped in from behind and emphatically blocked Belinelli's shot. Chicago's Taj Gibson got the rebound and put up a desperation triple that fell short as Boston escaped with a not-easy-on-the-eyes 71-69 triumph.
"It was a flashback -- JET's been talking about this game, probably, since the last time we played them," teammate Avery Bradley said. "Every single day he's been saying something about it, and so it's funny that he kind of had a similar situation and got the block at the end of the game. He's been wanting this game so bad. He's been talking about it every single game."
Terry admitted he was furious watching "SportsCenter" the night of Chicago's victory. Belinelli hit a desperation, 14-foot turnaround jumper over Terry to lift the Bulls. Terry couldn't forget it, probably because he couldn't let it go. He even busted out game film to watch multiple times on Wednesday, just to give him a little extra juice on the floor.
"Every experience is a learning one," Terry said. "This time I learned and it worked out."
Celtics coach Doc Rivers laughed as he playfully reaffirmed that Terry is Boston's new defensive stopper, this after the 35-year-old veteran came up with a crucial late-game steal in Sunday's triple-overtime win over the Nuggets. Terry struggles to maintain defensive consistency at an advanced age, but has a knack for coming through in clutch situations.
"For me, it's just what I hang my hat on. You can say I'm not a great defender or whatever, but I bet on myself in tough, clutch situations with the game on the line, whether it's offensively or defensively," Terry said. "I've been in that situation enough times to know, I'm going to do whatever it takes to win in that situation."
And maybe now he can finally delete the last Celtics-Bulls meeting from his DVR.
* CRYING FOUL: Bradley fouled out with 6.2 seconds remaining after wrapping up Nate Robinson to prevent a potential game-tying 3-pointer. Was it intentional? "Yeah, you can say that," Bradley said with a laugh. Rivers admitted it was a designed foul, saying he only wished that Bradley had waited an extra second (it might have prevented Gibson from getting off the potential game-winning 3-pointer after a mad scramble at the end). Bradley helped limit Nate Robinson -- starting at point guard with Chicago playing without Derrick Rose and Kirk Hinrich -- to six points on 2-of-7 shooting. The two Seattle-area natives had a little extra incentive on the court. "That's how we play. We're from the same place," Bradley said. "We were just out there battling. And every single time we step on the floor against each other, that's how it's going to be. I just try to play as hard as I can and I know he was doing the same."
* GETTING DEFENSIVE: The Celtics' 71 points marked the franchise's third-lowest total in a win during the shot-clock era with only a 62-57 win over Milwaukee in 1955 and a 70-65 victory over Miami in 2002 having produced fewer points. Spin it as a defensive masterpiece if you'd like, but there was some atrocious offense out there. "I've never been a part of that," Terry said. "Obviously, you know me, I'm from the Western Conference. We score nine [points] in one minute. But it just goes to show you our defense is definitely where it's supposed to be. Offensively, we have to keep shooting, but we didn't lose our defensive intensity. Earlier in the season, if we had missed those shots, we wouldn't have got any stops. But now we know, defensively, we have to be there every night."
* ROSE IN BLOOM: Rose, traveling with the team despite previously suggesting that he's still a ways off from returning, surprisingly held court with reporters after the game. Said Rose on playing again this season: "I would love to play this year. I would love to, I would love to. That's why I approach my rehab and my workouts so hard. I'm trying to get back out there on the court as quickly as possible." Rose tore his left ACL on April 28 and, nine months after surgery, he's still working his way back. Added Rose: "My leg still isn't feeling right. Mentally, I think that I'm fine. Just every week try to do something different. Every day stay on my rehab, do a little bit more, lift a little bit more, squat a little bit more. And taking it very serious."
* GIMME A BREAK: Celtics captain Paul Pierce, fresh off laboring through 2-of-12 shooting (though he scored five of his eight points in the fourth quarter), expressed excitement at a four-day break for the All-Star festivities. "It's coming right at the right time," Pierce said. "So many things have gone on over the last few weeks with us -- mentally, physically. I think this is a perfect time for the break. Especially with the injuries we have. I think the latest blow with [Leandro] Barbosa [out for the season with an ACL tear] it really hit us mentally, emotionally. Guys really felt that. We knew this was going to be a tough grind-out game today and some way, somehow we found a way to win."