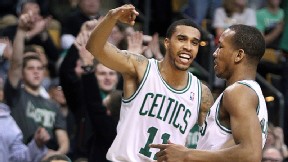 Jim Davis/The Boston Globe via Getty Images
Players like Courtney Lee and Avery Bradley are ready for some downtime during the All-Star break.BOSTON -- With the sting of injuries never stronger in the wake of losing three important rotation players to season-ending maladies over the past three weeks, the Boston Celtics are more than ready for the four-day All-Star break that offers a rare in-season chance to physically and mentally rejuvenate themselves.
While Kevin Garnett will be participating in Sunday's All-Star game, many of his teammates will be heading to warmer destinations to rest up their aching bodies and take a break from the day-to-day grind of the 82-game season.
Courtney Lee and Brandon Bass are both headed home to Orlando, where they reside during the offseason. Prior to Wednesday's win over the Bulls, Lee stressed the importance of the four-day break on the mind and the body.
"It's all of it," Lee said. "You've got the physical -- tough stretch, you've got a lot of games on the road, flights, practices everyday. So, it can wear on a player's body. So we get a break right then. Then we also get a break to get away from this injury spree that's going on. And then mentally, it's just relaxing and that does a lot for you."
Lee said he and Bass will likely see each other over the four-day span.
"Yeah (Bass) told me was going to hit me up," Lee said. "We're going to run into each other. We might go grab dinner, do something. We might hit up the gym at the same time, so I'll see him for sure."
Avery Bradley has a trip to Puerto Rico planned, while Jason Collins is heading back home to Los Angeles to spend time with his family and work out with his twin brother, Jarron. A veteran like Collins, who's nursing an aching back, can appreciate the extra time off.
"At this point in the season, most guys have some nagging injuries, so four days off helps a lot healing nagging injuries," said Collins. "And then I think it's more of a mental break than anything. But you break the routine as far as being on someone else's schedule. You still have to get your conditioning and strength training in, but you're on your own schedule."
Lee's no stranger to nagging injuries, having battled a minor foot ailment for the majority of the season.
"It's a good break for you," Lee said. "You can heal nagging injuries. That's pretty much it, healing nagging injuries, getting the rest, getting your legs back up under you, getting rejuvenated. It's like charging a battery."
As relaxing as the break can be, though, the players all stressed the importance of still hitting the gym and getting the necessary workouts in, particularly with a visit to Denver first up on the schedule after the time off, where the altitude can affect conditioning levels.
"Probably the last two days (I'll) probably work out," said Bradley. "I will work out, especially seeing that we're going to Denver. So, got to make sure I'm right, in shape, so I don't get tired in the high altitude."
Added Collins: "You can't do nothing for those four days, especially going into a game in Denver where the altitude is high and that affects your conditioning. So you definitely want to make sure that you're ready for that practice on Monday night."
The Celtics, now 28-24 on the season, will carry a bit of momentum into the break, having won eight of their last nine games, including Wednesday's 71-69 grind-it-out victory over the Chicago Bulls. The club has performed admirably in the aftermath of the injuries it has sustained, and Jason Terry said the break is coming at a great time, as guys can refresh themselves and gear up for a "magical" second half run.
"This is a great time. We need it," Terry said. "Obviously, this whole ride has been mentally draining for us losing guy after guy. Barbosa was the last casualty. But just being a veteran player in this league, you need to step away for a second, regather yourself, and then get ready for this magical run. Because it is going to be magical and we all believe that."