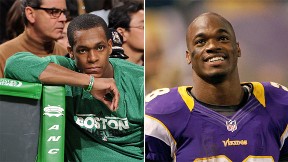 Getty Images, AP Photo
Rajon Rondo (left) wants a speedy recovery like NFL MVP Adrian Peterson (right).With Celtics point guard Rajon Rondo quietly expressing a desire to mimic the lightning-fast ACL-tear recovery that Minnesota Vikings running back Adrian Peterson displayed, Boston coach Doc Rivers was asked if he'd try to temper Rondo's expectations for how quickly he can return to the floor.
"No, I want him to rush it. I want him to be exactly like Adrian Peterson," Rivers said, only half-joking. "That doesn't mean you're going to make it back [that fast], but I think it's a good thing and a good goal to have."
Peterson underwent ACL surgery in late December of 2011 and was back on the field for the start of the 2012 season, one in which he challenged the NFL's single-season rushing record and was named league MVP. Rondo chose Peterson's surgeon, Dr. James Andrews, in large part because of his role in Peterson's recovery and rehab.
Rivers did admit that Peterson has probably set unfair expectations for any athlete coming back from an ACL injury.
"I think Adrian Peterson has probably messed everyone's mind up, everyone thinks they are going to come back and be Adrian Peterson," said Rivers. "First of all, it's a different game. I know football, there's hitting and cutting. But [in basketball] you are running on a hardwood floor, every step you make is a cut in basketball. I think you have to be very careful with that. I think, in basketball, guys come back, but I think it takes a little longer to feel comfortable. I do think guys are far advanced, I've see [Derrick] Rose run up and down the floor. But I just think it's different and you have to be very careful."
Rose tempered expectations of his own return while talking to reporters in Boston. The former MVP hinted there's a chance he will not be back on the court this season while still working his way back after having ACL surgery in May.
Celtics president of basketball operations Danny Ainge said the team is hopeful Rondo could be back on the floor for the start of training camp in late September, a mere eight months away. The fact that Rondo had only a partial tear of the ACL and no other structural damage could help accelerate his recovery timeline (pegged around 6-9 months), but every ACL injury is different.
The ultra-competitive Rondo shouldn't struggle with the physical rehab, but Rivers knows there's a second hurdle looming after he endured the same injury as a player.
"For me, it was mental," said Rivers. "The physical part -- when I did the rehab, it's just what it was. The only way you're going to come back is going to be you gotta go through physical pain. But the mental part, for me, was hard. And I didn't anticipate that. I thought it would be easy. I remember [Knicks coach Pat] Riley bringing me in and showing me clips of me landing when I first came back and I was landing on one leg, I would not land on both feet, because that's how I got injured. I didn't know I was doing that, that was subconscious. I think it's mental."