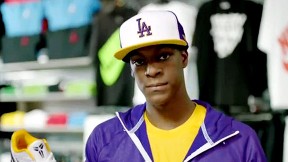 Champ Sports
Celtics fans need not worry about seeing Rajon Rondo actually suit up in Laker purple (like in this commercial spot).Los Angeles Lakers general manager Mitch Kupchak denied reports that the Lakers and Celtics were in preliminary talks to trade Dwight Howard for Rajon Rondo.
"I haven't talked to Danny Ainge in weeks," Kupchak told ESPN The Magazine's Chris Broussard. "I made the statement a week or two ago that we're not going to trade Dwight Howard and that hasn't changed."
When asked if a possible Dwight-for-Rondo trade was discussed when he spoke to the Celtics weeks ago, Kupchak again said no. He said at no point this season has a Dwight-for-Rondo trade been discussed.
Hop HERE to read the full story.