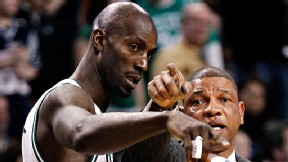 AP Photo/Winslow Townson
Kevin Garnett said he has no plans to waive his no-trade clause this season.Celtics center Kevin Garnett said Saturday that there is currently no team nor circumstance for which he would waive his no-trade clause as Thursday's trade deadline approaches.
Garnett's name swirled in another batch of Celtics-Clippers trade rumors on Friday night, but Garnett, who had previously suggested it's his preference to be "buried in green," reaffirmed on Saturday that he has no plans to swap uniforms this season.
Talking to reporters before All-Star practice in Houston, Garnett said, "If it's up to me, I'm going to live and die green."
Informed that power is fully in his court given the fact that he secured one of only four no-trade clauses in the league when he inked a three-year, $36 million extension this offseason, Garnett playfully asked reporters why the conversation was still on the subject then.
Garnett also noted that he has not been approached by Celtics president of basketball operations Danny Ainge about any potential deals that would require his approval.