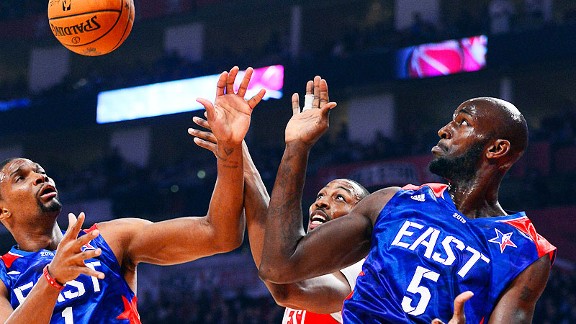 Bob Donnan/USA TODAY Sports
Kevin Garnett (5) chases a rebound during Sunday's All-Star game in Houston.Rapid reaction after Boston Celtics center Kevin Garnett participated in the NBA All-Star game on Sunday night in Houston:

THE NITTY GRITTY
Now we know why Garnett suggested this would be his last All-Star game appearance. Looking largely out of place in an up-tempo defenseless battle, 36-year-old Garnett started and logged a mere 6 minutes, 26 seconds of scoreless floor time for the Eastern Conference. Garnett missed both jump shots he took (straightaway jumpers from the top of the key), while grabbing three rebounds and handing out one assist. He was minus-5 in plus/minus with a turnover. Garnett did not return after his initial shift.
WHAT IT MEANS
Garnett gave an in-game interview during TNT's broadcast and gushed about the Celtics' potential in the second half of the season, suggesting he loves his team's fight after three key players were lost for the season due to injury. "I like our team. I like us a lot, actually," said Garnett. Celtics coach Doc Rivers owes Miami counterpart Erik Spoelstra a thank-you note. Sure, Garnett exceeded his usual first-shift run, but instead of the familiar 5-5-5 plan, Garnett enjoyed a breezy 6-0-0 night. Garnett logged the lowest minutes of the evening (the West's Tim Duncan the closest at 8:03). Garnett should be ready to go when the Celtics open the second half on Tuesday night in Denver to start a five-game west-coast swing. If this was Garnett's final All-Star appearance -- as he has adamantly stated -- he got a chance to savor the weekend without enduring much wear-and-tear. The West emerged with a 143-138 triumph over the East at the Toyota Center.