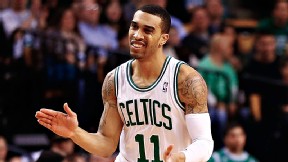 Jared Wickerham/Getty Images
Courtney Lee is carving out his role after an inconsistent first half of the season.As much as Celtics guard Courtney Lee was looking forward to some of the typical amenities associated with the NBA's annual All-Star break -- rest and relaxation, a warm destination, time with family -- his role in the second half of Boston's season wasn't far from his mind.
Lee's not blind to the struggles he endured during the first part of the season. He had a rough shooting month in November (converting just 18.2 percent of his looks from the 3-point line), was relegated to a bench role, and continued to have a difficult time carving out a niche in an offense built around Rajon Rondo, Paul Pierce, and Kevin Garnett.
It was all an adjustment for Lee after he held more substantial roles on some of his former teams that also incorporated offensive systems that stressed team-wide ball movement. But he pressed on and, as he eventually settled into a reserve role, he saw his shooting numbers rise and took on more responsibility on the defensive end of the floor.
But then Rondo went down for the season with a torn right ACL and Lee found himself -- along with the entire team -- back in the adjustment phase. But Lee was better prepared for this one. The spread offense the Celtics have incorporated since losing Rondo is more in line with the systems some of Lee's past teams used to run and the familiarity has helped to motivate him to put the first half of the 2012-2013 campaign in the rear view mirror and hone in on what he can do to help keep the C's competitive moving forward.
"I don't care about how the first half of the season went," Lee said prior to last Wednesday's win over the Bulls. "That's over with. All we care about is now. We've got people who went down, so everybody in this locker room has to come together and just be better going forward. So now the halfway mark's over with, we've just got to come out with a fast start in the second half. So, that's all that matters -- thinking about what we're going to do and how we're going to do it."
For Lee, that meant going to the videotape. He sat down and compared footage of himself from last season when he was a member of the Houston Rockets to video of the first portion of the current season.
"Two totally different players," Lee said. "So, I need to get that rhythm, get that comfort zone back, and pretty much get my swag back going forward."
Lee pointed to the difference in the two teams' respective offensive schemes as one of the main reasons for his altered play.
"How we played in Houston last year is how we're playing right now, as far as we really didn't have one guy that was capable of making plays for everybody every time," Lee said. "So we were moving the ball and it put you automatically in that rhythm. Here, you have Rondo, he's a playmaker; you've got Paul, who's a playmaker; you've got KG who's a playmaker. So having three playmakers out on the court at once, it puts everybody else kind of in a position where you just make sure you get to your spot if something happens, as far as them getting double-teamed or anything, they can find you. So, it was an adjustment to that."
One of the very few silver linings to Rondo going down has been the emergence of a number of Boston's key role players. Jason Terry, Jeff Green, and Lee have all seen their roles and responsibilities increase with Rondo now out of the picture, and they've all responded to the greater challenge. Terry admitted a few weeks ago that the Celtics' renewed emphasis on team-wide ball movement is more "conducive" to his game, and Lee said it's fair to say that Boston's current style of play has allowed him more freedom to utilize his strengths on the court.
What's been most important for Boston since Rondo went down is the players' acceptance of the newer system. Lee, much like Terry and Green, has embraced the change and rather than worry about what Rondo's involvement once was, he's focused on re-establishing his versatile game to Boston's benefit.
Lee's now back in the starting lineup alongside Avery Bradley, giving the Celtics a more spirited defensive duo in the back court, and through seven games in the month of February he's averaged 8.9 points, 2.7 rebounds and 2.6 assists on a 43.3 percent shooting overall and a 33.3 percent mark from 3-point nation. Lee's posted better shooting numbers in other months this season -- with Rondo in the lineup -- but he's confident that his familiarity and comfort with the newer system will result in better production the rest of the way.
"I've always been a guy -- from when I played in Orlando, on to Houston to here -- I've always been in an offense where there's a lot of movement, pin downs, a lot of stuff in transition, ball movement," Lee said. "In Orlando we had Jameer (Nelson) and (Hedo Turkoglu), but they like to play the same way that I like to play, so we used Dwight (Howard) for the offense, and so people would double him and we would move the ball around and then somebody would always be open. That's how we played there.
"In New Jersey there was just a lot of movement and what not, and in Houston it was the same, just moving the ball. And then you come here and you've got Rondo, who's a heck of a playmaker. That's his skill set, like he's going to find the open man, make the pass on time, and find the right man. And so now that we don't have that, I would say how we're playing now definitely fits my system."