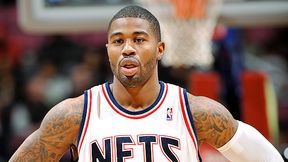 Jesse D. Garrabrant/NBAE/Getty Images
The Celtics have formally signed Terrence Williams on a 10-day contract.The Boston Celtics formally announced the signing of 25-year-old swingman Terrence Williams to a 10-day contract on Wednesday.
Williams, who joined the team in Denver, has received his clearance letter from China and is expected to be available for Wednesday's game against the Los Angeles Lakers. He will wear No. 55.
The 6-foot-6 Williams has appeared in 129 NBA games, averaging 7.6 points, 3.9 rebounds, and 2.5 assists over 20.2 minutes per game. The 11th overall pick in the 2009 NBA Draft, Williams spent a season-plus in New Jersey before stops in Houston and Sacramento. After being cut by Detroit out of training camp, Williams spent much of this season overseas in China. He averaged 17.9 points, 3.4 rebounds, 4.1 assists and 1.2 steals in 29 games for the Guangdong Southern Tigers.
Celtics coach Doc Rivers had hinted last week that the Celtics would target the best available body instead of a position-specific target. While Boston has needs for a ball-handler and frontcourt help after losing All-Star point guard Rajon Rondo, rookie forward Jared Sullinger, and reserve guard Leandro Barbosa, they appear to be giving first crack to one of the most skilled players available.
Williams can handle the ball well for his size and is a solid distributor and he's solid on the glass, utilizing his athleticism to be a competitive rebounder.
For more on Williams, hop HERE.