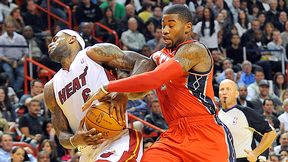 Steve Mitchell/US Presswire
Terrence Williams fouls Miami's LeBron James.Rapid reaction after multiple reports indicate the Boston Celtics will sign swingman Terrence Williams to a 10-day contract:
* TALENT OVER POSITION: Celtics coach Doc Rivers said that he and president of basketball operations Danny Ainge agreed last week that the team wouldn't seek a body based solely on positional need and instead would attempt to ink the best available bodies with the idea that pure talent had a better chance to crack the rotation. Rivers had said his wish list included a ball-handler and frontcourt depth. The 6-foot-6 Williams doesn't exactly fill either need, but he can handle the ball and distribute (a 21.7 career assist percentage), while also being a competitive rebounder (20.1 defensive rebound percentage). To put that in perspective, Pierce has a 22.9 assist rate this season (second only to Rajon Rondo on the Celtics), while Jared Sullinger's defensive rebound percentage was 22.2 percent before his season-ending injury. A former first-round pick of the Nets (11th overall), Williams' all-around skill set can potentially help Boston more than what's otherwise available at the positions of need for the Celtics.
* FLEXIBILITY AT SWING SPOT: After losing Leandro Barbosa for the season, the Celtics were down to three pure guards on their roster. That forced Rivers to get creative with lineups and he paired Pierce and Jeff Green at the shooting guard and small forward spots often in Wednesday's first-half finale. Boston can add Williams to that mix, helping eat up the minutes lost when Barbosa went down. Add in Courtney Lee and Boston has a versatile group of swingmen that Rivers can mix and match.
* FLEXIBILITY AT DEADLINE: By adding Williams, the Celtics bring in much-needed depth for a team that was playing with 10 healthy bodies (one of which was rookie Fab Melo on recall from the D-League). Boston maintains deadline flexibility as there's no little risk or cost with a 10-day contract and Williams can be cut loose from his deal if Boston needs his roster spot sooner. Williams, fresh off a stint in China, will get a chance to fill minutes and Boston can evaluate his potential to help long term as it navigates the trade deadline (and the buyout period after that).
* SYNERGY SNAPSHOT: Honing in on his last NBA go-around -- an 18-game stint with the Kings last season -- Williams advanced numbers won't floor you. He averaged a mere 0.837 points per play offensively, ranking in the 36th percentile. He struggled with spot-up shooting, but was actually solid as a pick-and-roll ball-handler and in isolation (in fact, his 1.464 points per play in ISO was easily the best in the league, albeit in a mere 28-play sample). Defensively, he was average overall, but solid against spot-up shooting in a small sample. His career numbers suggest a player that has struggled to stick because of inconsistent production in limited minutes.
* LOW RISK, HIGH REWARD: Some have questioned Williams' focus, but this is a low-risk move for Boston, which simply needs healthy bodies and will hope to hit the free-agent jackpot. Williams averaged 8.8 points and 4.1 rebounds per game over 20.5 minutes per game in Sacramento and the Celtics would be fine if he can produce anywhere near that level in short minutes with Boston.