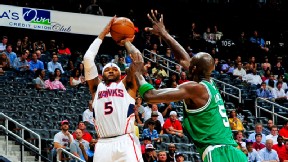 Scott Cunningham/NBAE/Getty Images
Could the Celtics be interested in adding Atlanta's Josh Smith?The Atlanta Hawks appear motivated to move Josh Smith. Is Boston interested? From ESPN.com's Marc Stein:
NBA front-office sources told ESPN.com on Monday that the Boston Celtics have, indeed, registered their interest on the Smith front, with the caveat that they also remain highly interested in the Clippers' Eric Bledsoe. Yet a Boston deal for Smith, sources said, would almost certainly have to be built around Paul Pierce, because Kevin Garnett isn't waiving his no-trade clause to go to the Atlanta Hawks if he's not willing to waive it to go to the Clipperland. And the prospect of Celtics front-office chief Danny Ainge exiling Pierce to the Hawks for Smith, after everything Pierce has done to restore the Celtics to glory over the past half-decade, is still hard to imagine.
Hop HERE to read the full story, which includes more on the Garnett-to-Clippers rumors.
Your turn: The rumor mill got your dizzy? Play general manager and tell us what you'd do if you were Danny Ainge.