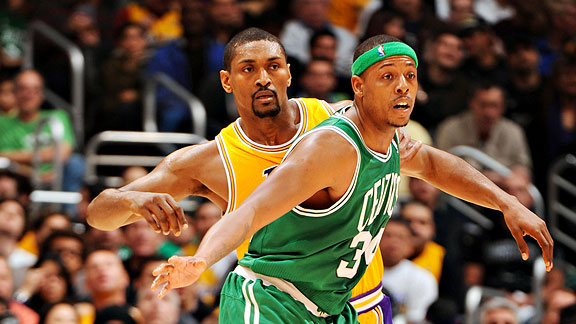 Andrew D. Bernstein/Getty Images
Paul Pierce and the Celtics visit Ron Artest and the Lakers on Wednesday night in Los Angeles.The Boston Celtics (28-25, 8-16 away) visit the Los Angeles Lakers (25-29, 16-11 home) on Wednesday night at the Staples Center. Here's what to watch for:

* LAST GAME IN GREEN?: With Thursday's 3 p.m. trade deadline looming, Celtics players have to face the harsh reality that this could be their last game in green. That could mean an end of an era if Celtics president of basketball operations Danny Ainge were to make moves including core members like Paul Pierce or Kevin Garnett. Needless to say, players in both locker rooms will have plenty to ponder beyond a rematch of rivals. Even as both sides limp through underperforming seasons, it's still Lakers vs. Celtics and -- given the circumstances around the game -- it means that much more.
* AN EMOTIONAL NIGHT: Even beyond the trade rumors, it will be an emotional night in Los Angeles as the Lakers play their first game since the passing of owner Jerry Buss. The team won 10 titles under Buss' direction since 1979. The Lakers will sport gold "JB" patches on their uniform and, asked about playing in the aftermath, Kobe Bryant said Tuesday, "Just stay focused on the moment... and come out [Wednesday] night ready to put on a good show in his honor."
* BOUNCE-BACK FOR PIERCE?: Pierce said he didn't touch a basketball during the All-Star break and it showed on Tuesday as he was a woeful 2-for-14 shooting (14.3 percent) in Denver. Pierce was a head-shaking 1-for-9 inside the 3-point arc, though he did finish with 10 points, 6 rebounds, and 6 assists while still being plus-4 in plus/minus. So much of Boston's success can be traced to Pierce's elevated play since Rajon Rondo went down and the mere sight of the Lakers should be enough to get Pierce back on track.