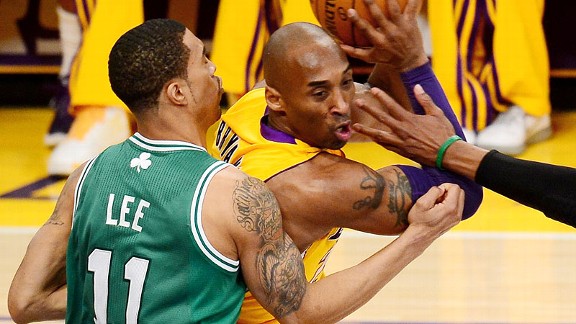 Frederic J. Brown/Getty Images
Courtney Lee defends Kobe Bryant on Wednesday night.LOS ANGELES -- Rapid reaction after the Los Angeles Lakers defeated the Boston Celtics 113-99 on Wednesday night at the Staples Center:

THE NITTY GRITTY
Dwight Howard posted 24 points and 12 rebounds, while Earl Clark added 14 points and 16 rebounds as the Lakers scored 54 points in the paint and extracted some revenge from a lopsided loss in Boston earlier this month. Kobe Bryant added 16 points as the Lakers put seven players in double figures. Paul Pierce scored a game-high 26 points on 9-of-17 shooting, but after a scorching first half (season-high 23 points), the captain produced only three second-half points -- missing both shots he attempted. Pierce was a team-worst minus-17 overall in plus/minus for Boston. Courtney Lee scored a season-high 20 points on 9-of-16 shooting, while Jeff Green added 15 points, 7 rebounds, 4 assists, a block and a poster-dunk (over Earl Clark) off the bench.
TURNING POINT
The Lakers were up eight early in the second half before scoring the game's next 10 points on a burst that pretty much blew the game open. Everyone got involved for Los Angeles on the run: After a Metta World Peace layup, a fadeaway from Bryant, a driving layup from Steve Nash, a Howard alley-oop (off a feed from Nash), and a Clark dunk (off a feed from Bryant), the Lakers led 75-57 as Boston scrambled for a timeout with 7:53 to play in the third quarter. The Celtics never saw a single-digit deficit again.
WILLIAMS DEBUTS FOR BOSTON
With the Celtics down 18 and less than three minutes to play in the third quarter, newly signed Terrence Williams got his first NBA action of the 2012-13 season. Playing a guard role alongside Paul Pierce and Jeff Green, Williams assisted on a Kevin Garnett bucket early in his first stint. In the fourth quarter, Bryant found himself isolated with Williams defending and the 25-year-old swingman held his own, forcing a missed layup. Williams hit his only shot while chipping in two points, two rebounds and two assists over 12:44.
MELO GETS SOME BURN, TOO
Boston got its deficit down to 12 early in the fourth frame (90-78), but the Lakers quickly had that advantage back up to 22 soon thereafter. Rivers seemingly waved the white flag when he inserted raw rookie Fab Melo while down 20 with 7:06 to play. Melo produced a little alley-oop dunk and an emphatic block in seven spirited minutes.
DOC GETS A TECH
You know it's a tough night for Boston when coach Doc Rivers is breaking his own "no fourth-quarter technicals" rule. Rivers picked up his fourth technical of the season for barking at an official with 9:12 to play in the game. Not that it mattered much with the game out of reach at that point -- Rivers was simply voicing some frustration.
WHAT IT MEANS
The Celtics continue to struggle against Western Conference teams on the road. Boston has now lost two in a row, falling to 28-26 overall with Thursday's 3 p.m. trade deadline looming and big decisions about the future of this team to be made. Trade activity or not, Boston will take Thursday off before visiting Phoenix on Friday.