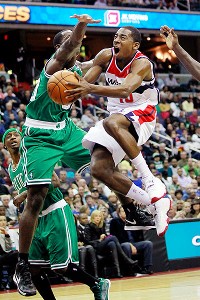 Geoff Burke/US Presswire
Jordan Crawford attacks the basket against the Celtics.Rapid reaction after the Boston Celtics acquired guard Jordan Crawford from the Washington Wizards in exchange for Jason Collins and Leandro Barbosa before Thursday's trade deadline:
* LOW-COST REPLACEMENT: The Celtics were clearly not enamored with what they've found while combing the globe for free agents to replenish an injury-depleted roster in recent weeks and instead found a way to add NBA-caliber talent at virtually no cost. Boston trims a small amount of salary in taking on Crawford and his $1.2 million deal, while moving the minimum salaries of Collins and injured Barbosa. Initial iterations of the deal suggested the Celtics might part with rookie Fab Melo, but the final package allowed them to keep their project big man. Celtics president of basketball operations Danny Ainge previously expressed a desire to bring Barbosa back next season, while Boston is clearly in the hunt for big-man help after moving Collins in this deal.
* CRAWFORD = NEW WILD CARD: While Barbosa's minutes were inconsistent at the start of the year, a season-ending injury to Rajon Rondo afforded him 20 minutes per night, and he was able to provide an effective scoring punch off the bench. The Celtics will likely ask Crawford to do the same, leaning heavily on him when their often-sluggish offense needs a jolt. Sure, he's a spotty shooter -- career 40 percent overall and a mere 29.9 percent beyond the 3-point arc -- but he's shooting a serviceable 42.2 percent in the mid-range this season and has strong numbers in isolation (he's able to create off the dribble and draw fouls). If he accepts the "relief pitcher" role for a contending team like Boston, he has potential to thrive in a winning situation.
* CRAWFORD'S FUTURE: Crawford, the 27th pick in the 2010 NBA draft, has one more season on his rookie deal and is set to earn a manageable $2.2 million next year. That's a friendly number that Boston can either stomach or explore moving in the offseason. Crawford holds a $3.2 million qualifying offer for the 2014-15 season.
* THE SCOUTING REPORT: John Hollinger notes: "Crawford is the most superficial of basketball talents, a high-scoring gunner who takes terrible shots and barely tries on defense." Hollinger's scouting report isn't much nicer:
* Shoot-happy guard who takes terrible shots. Capable passer when mood strikes.

* Very quick and has a good handle. Can finish, but poor long-range shooter.

* Abysmal defender. Undersized for 2. Must add strength and dial up effort.
Not exactly a glowing report, but Boston isn't looking for a 30-minutes-per-night starter. This is a role player who fills a glaring need at the guard position. The Celtics can live with his shortcomings amid the hope he will aid the team's quest over the final 28 games of the regular season and into the playoffs.
* THE BOTTOM LINE: Once the Celtics determined that they would hold onto their core veterans at the deadline -- likely unmoved by what they could fetch in return -- they went the alternate route and added some depth to aid a playoff push. Again, this move costs them little -- they'll actually save about a $0.5 million -- and Boston remains comfortably on the tax apron (but under the $74.3 million hard cap after using the midlevel exception). Boston would have loved to sink below the $70.3 million tax line, something that trading Melo could have aided, but with the likely need to add another big man down the road (buyout deadline?), the Celtics were likely resigned to being on the apron and further subjecting themselves to repeater penalties that loom in future seasons.