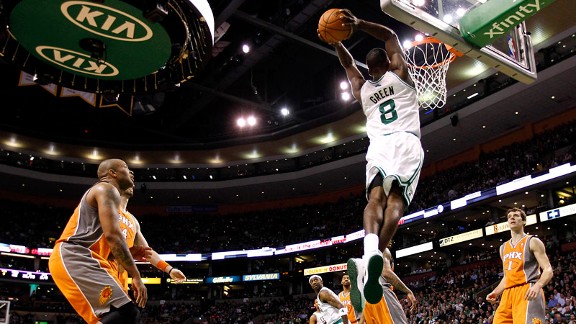 Mark L. Baer/USA TODAY Sports
Jeff Green dunks on the Suns earlier this season in Boston.The Boston Celtics (28-26, 8-17 away) visit the Phoenix Suns (18-37, 12-13 home) on Friday night at the US Airways Center. Here's what to watch for:


* OFF DEADLINE: While Celtics veterans didn't look stressed in the least leading up to Thursday's trade deadline, there should be a small weight lifted from their collective shoulders with it now in the rear-view mirror. Boston must still find some frontcourt depth to fill out its roster, but the Celtics know that this is the group that they'll make their run with. If any player had been bogged down by thoughts of an uncertain future, their minds should now be locked on the final 28 games of the regular season and how this team can climb the Eastern Conference playoff ladder. Boston will get a boost Friday as Jordan Crawford, obtained at Thursday's deadline for Jason Collins and Leandro Barbosa, will be available.
* A MUST-WIN GAME?: The Celtics are 0-2 to start this five-game road trip, and a daunting back-to-back looms Sunday in Portland and Monday in Utah. Some Celtics even pegged Friday's visit to Phoenix as a must-win game. "We have to find a way to stop the bleeding, and with Phoenix, we have to look at this as a must-win," said captain Paul Pierce. "Everybody has to have a sense of urgency." Added Jason Terry: "They didn't make the schedule easier, by no means. So this next one is a must-win for us."
* NEW-LOOK ROTATION: After leaning on Collins as the first big off the bench, the Celtics will have to shuffle things up a bit after he was dealt to Washington as part of the Crawford deal. Chris Wilcox is the likely candidate to move into that role of spelling Kevin Garnett after the first five minutes. Rivers hasn't been subtle when noting that the team needs more out of Wilcox moving forward. "I've told him that; it's no secret," said Rivers. "We're down on bigs and he has to play better. Even if we had our bigs, he has to play better. He has to play harder, he has to be more focused. He has to play better."