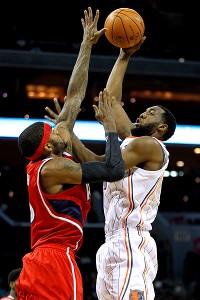 Streeter Lecka/Getty Images
The Celtics are set to add D.J. White on a 10-day contract.PHOENIX -- The Boston Celtics are set to address their lack of size by adding forward D.J. White, according to coach Doc Rivers.
White, a 6-foot-9 forward, played in China this past season, but has four years of NBA experience with the Oklahoma City Thunder and Charlotte Bobcats. Rivers said the team was clearing some final hurdles before finalizing a deal (expected to be a 10-day pact), but the team is hoping to add the 26-year-old White before the end of this five-game road trip.
White averaged 6.3 points and 3.4 rebounds in 16.3 minutes per game over 124 career NBA appearances. He posted 21.6 points and 9.7 rebounds per game in 32 appearances for the Shanghai Sharks this season in China.
"Honestly, I didn't know a lot about him," Rivers said of White. "I saw him when he was in Oklahoma City and Charlotte. Listen, we went over three or four guys and this is one of those things where you just listen to [Celtics president of basketball operations] Danny [Ainge] and [director of player personnel] Austin [Ainge] and [assistant general manager] Ryan [McDonough]. They give you their opinion; I told them what I need. But at the end of the day, I told them [to get] whoever they thought was the best player. Like I said a week ago or two weeks ago when [Jared Sullinger] went down, we're just looking for whatever position is the best player."
The Celtics were already thin on big men before trading Jason Collins to Washington on Thursday in order to add guard depth by acquiring Jordan Crawford. Boston played Friday's game in Phoenix without Kevin Garnett (rest), leaving the team super small with Rivers joking, "We just decided to be the mini Celtics."
White can add some size, but Rivers said the team will seek additional big-man help with another open roster spot. Boston is auditioning players like White and swingman Terrence Williams on 10-day contracts before filling out their roster for the remainder of the season. Rivers had previously said the team will monitor the buyout scrapheap to see if any other veteran talent becomes available as teams shuffle their rosters for the final two months of the season.