PHOENIX -- Pity the poor traveler who had the adjoining suite next to Kevin Garnett in Phoenix on Friday night.
Garnett indulged in a rare night off -- his first of the season -- after coach Doc Rivers asked him to rest his weary legs as Boston visited the Suns. But Garnett isn't the type to retreat to the spa, and he almost certainly spent the night holed up watching the TV broadcast and likely shook the hotel with every encouraging sight from his teammates.
And, oh, there were plenty of them. Jeff Green, starting in place of Garnett, erupted for a season-high 31 points on 11-of-14 shooting, while newcomers Jordan Crawford and Terrence Williams highlighted a well-rounded bench effort as the Celtics stomped the Suns 113-88 at the US Airways Center.
There was never going to be a good time to rest Garnett, whose legs have simply never quite bounced back since playing 47 minutes in a triple-overtime win over the Denver Nuggets earlier this month.
Garnett, who has hinted he's battling some minor maladies as well, looked gassed for much of Wednesday's loss to the Los Angeles Lakers and Rivers lamented not sitting him then -- as impossible as it was to consider holding Garnett out in a rivalry game.
So even with his team 0-2 to start a daunting five-game road trip, Rivers swallowed hard and asked the 36-year-old to take a vacation day. The fact that Garnett obliged speaks volumes itself of how needed the break was.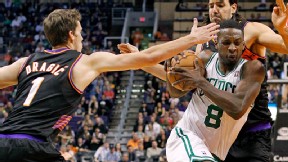 AP Photo/Paul Connors
Jeff Green drives against the Suns on Friday.And in what some veterans dubbed a must-win game, the entire roster stepped up against an overmatched Phoenix squad.
Green was otherworldly, adding seven rebounds, five blocks, and four assists to his stat line over 39 minutes. Chris Wilcox, pulled aside by Rivers earlier in the day and implored to up his level of play, responded by registering 14 points and eight rebounds in 22 high-energy minutes. Jordan Crawford came as advertised, chipping in 10 points, three rebounds, and three assists in 17 minutes (despite no familiarity with the playbook), while Terrence Williams continues to show versatility that makes it seem like a crime that he was out of the league until this point.
"It was just a good win, a feel-good win for all the guys," gushed Rivers. "The new guys played great. Jeff was phenomenal. We started the game running a set that we had never ran in our lives. We drew it up literally right before the first play, but they just had the basketball IQ to keep working and they actually showed us options that I didn't know we had.
"It was just a good feel-good win, everyone did their job. Courtney Lee, all the guards rebounded and stayed in there. Because Jeff got off to the start, it forced [the Suns] to have to match up. Then it was a small game, and that's the only way we could be. So that was good for us."
Green made the most of the spot start, even if he said he didn't change his approach. He scored 13 first-quarter points and set the tone for the game.
"I didn't have a different mindset at all," said Green. "My mindset was the same as me coming off the bench, just come out and be aggressive, just try to make a statement on the game early, and that's what I did, by attacking the rim and getting to the free throw line."
With his jumper falling, the Suns had no answer for Green. He posted 3s, he attacked 4s, and he simply made good things happen, as evidenced by a team-best plus-26 in plus/minus.
Rivers admitted he doesn't have an answer for how to bottle that consistency, but he likes what he saw.
"He knew he didn't play well against the Lakers, he was really down after that game," said Rivers. "He thought he didn't play well, he voiced that. So you didn't know if he was going to play well tonight, but you knew he was going to be focused and play hard. The fact that he played well was the gravy."
And even though Garnett wasn't on the floor, players said they could still hear him in their ears.
Maybe that was just him screaming in delight from across the city.
"Even though KG wasn't here, I could still hear him in my ear: 'Be aggressive, keep playing,'" said Williams, whose play suggests the Celtics should tear up his 10-day contract and make it a season-long pact ASAP.
Crawford, short on sleep, was just happy to get a win in his debut.
"I got about 2½ hours of sleep -- 2½ because I didn't go to bed until, like, 4, and had to get up at, like, 6:30 or something like that. But it was all good, though. Great first win."
He'll sleep like a baby on Friday. Well, so long as Garnett doesn't watch the tape of the game and start hollering all over again.