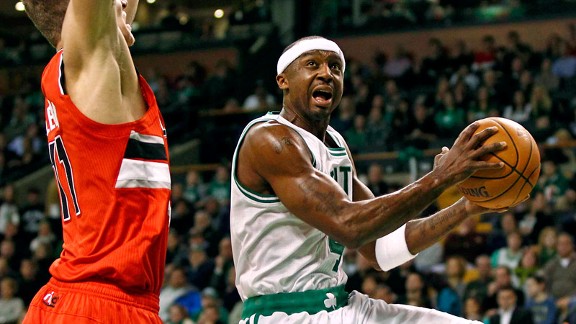 Mark L. Baer/US Presswire
Jason Terry drives on the Blazers earlier this season at TD Garden.The Boston Celtics (29-26, 9-17 away) visit the Portland Trail Blazers (25-30, 17-9 home) on Sunday night at the Rose Garden (9 p.m., CSN). Here's what to watch for:


* MAINTAINING MOMENTUM: The Celtics gave Kevin Garnett a day of rest in Phoenix and their younger players carried them to a feel-good win that snapped a two-game losing streak. Portland is the first night of a back-to-back to wrap up this five-game road trip and Boston can salvage the trip by finishing strong. A rested Garnett will help, but the Celtics would love to see guys like Jeff Green (season-high 31 points vs. Suns) and newcomers like Terrence Williams and Jordan Crawford build off their solid efforts the other night.
* SYNERGY SNAPSHOT: The Blazers rank 17th in the league offensively, averaging 0.918 points per play, according to Synergy Sports data. Portland is a top-10 squad in pick-and-roll ball-handler (thanks to rookie Damian Lillard) and in the post (thanks to LaMarcus Aldridge). Of the team's top rotation players, it's J.J. Hickson who has been the most efficient, averaging 1.034 points per play (89th percentile). Defensively, the Blazers rank 25th allowing 0.952 points per play. Portland actually has decent numbers in their top 3 defended play types (10th vs. spot-up; 14th vs. transition; and 11th vs. pick-and-roll ball-handlers), but have simply been a poor halfcourt team (26th overall). Here's the bottom line for Portland's defense: Of all players with at least 100 plays defended, old friend Sasha Pavlovic has the best numbers at 0.803 points per play (75th percentile).
* TURNOVERS IN FOCUS: While Lillard has had a phenomenal rookie season, the Trail Blazers rank 24th in the league assist-to-turnover ratio (1.41). Portland also is 20th in turnover percentage (15.8 percent). Even without Rajon Rondo, the Celtics have done a solid job valuing the ball (10th overall in team turnover percentage at 15.1 percent) and winning the turnover battle gives Boston a chance to win games with its defense most nights.
* SPOTLIGHT BACK-TO-BACKS: We often focus on Boston's veteran legs on the second night of back-to-backs, but Boston is a mere 6-8 on both the first and second night of 14 back-to-backs so far this season. That includes a mere 1-5 mark in the first night of back-to-backs that start on the road. Somewhat more daunting: Boston has lost all six games played as part of back-to-backs on the road this season, including the Nuggets-Lakers games to start this trip.