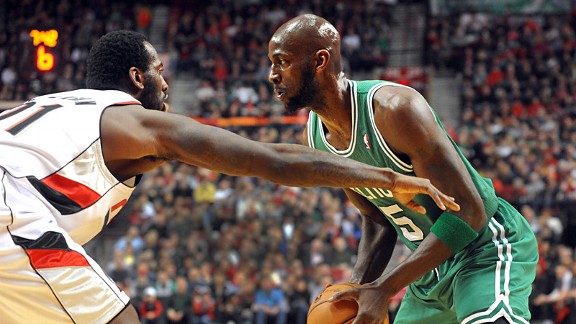 Steve Dykes/USA TODAY Sports
Kevin Garnett and the Celtics visited the Blazers on Sunday night.Rapid reaction after the Portland Trail Blazers defeated the Boston Celtics 92-86 on Sunday night at the Rose Garden:


THE NITTY GRITTY
Wesley Matthews scored a game-high 24 points on 8-of-11 shooting, hitting five 3-pointers, including a clutch triple in the final minute that helped Portland emerge with the win. Damian Lillard added a mild 12 points to go along with six assists and six rebounds, but his old-fashioned three-point play with 1:32 to go provided the winning points. Nick Batum (18 points) and LaMarcus Aldridge (16 points) did their part, while J.J. Hickson added a double-double (11 points, 11 rebounds) for the Blazers. Paul Pierce looked like he was taking over the game at times, finishing with 23 points, eight assists, and seven rebounds over 32 minutes to pace Boston. Kevin Garnett added 20 points and nine rebounds after sitting out Friday's win in Phoenix, but Boston's bench mustered a mere 19 total points.
TURNING POINT
The Celtics were down eight with under six minutes to go, but made a little charge that featured scoring on five straight possessions, culminating with a Garnett layup to tie the game at 86 with 1:46 to play. Unfazed, the Blazers attacked with Lillard in the pick-and-roll and, when Avery Bradley got snagged going over the top, Lillard got to the hoop for the layup and the foul. Pierce missed a tying triple at the other end and Matthews provided the dagger with a step-back 3-pointer with 53 ticks to go.
C's COME BACK TO EARTH
After scorching the Suns while putting up 113 points in Friday's win in Phoenix, the Celtics labored in the first half against Portland, shooting a mere 37.8 percent (17 of 45 overall). Green, coming off a 31-point outburst in a spot start against the Suns, missed 6 of 8 shots in the first half, while newcomers Jordan Crawford and Terrence Williams missed all six shots they put up in that same span. Portland shot 51.4 percent (19 of 37 overall), but only led by seven at the intermission. Green finished the game with 11 points on 4-of-12 shooting and was a team-worst minus-17 in plus/minus, while the rest of the bench was a mere 3-of-14 shooting for 8 measly points.
TECHNICAL DIFFICULTIES
Celtics coach Doc Rivers, unhappy with whistles early on, got tagged with a technical foul midway through the first quarter. Rivers now has five techs this season, including two in Boston's last three games.
WHAT IT MEANS
A tough loss for the Celtics, who made the late charge and looked like they were going to find a way to win despite playing lackluster ball for much of the night. Boston falls to 1-3 on this five-game road trip with a tough finale looming Monday in Utah. If Friday's win in Phoenix without Garnett was of the "feel-good" variety, this one will be filed in the "kicking themselves" category by Boston. The Celtics have to battle through any weary legs Monday knowing they have only one game over the following seven days.