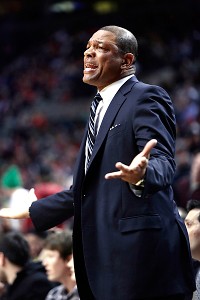 AP Photo/Don Ryan
Doc Rivers said it was one of those 'my bad' games versus Portland.Knowing they were on the verge of stealing a win against the Portland Trail Blazers on Sunday night despite playing mediocre basketball for much of the game, the Boston Celtics were kicking themselves after a frustrating 92-86 loss. Head coach Doc Rivers labeled it a "my bad" game afterward, as his players were trying to hold themselves accountable for defensive lapses and some poor rebounding that allowed Portland to snag a win and snap a seven-game losing streak.
"It was one of those, 'My bad,' games, you know?" Rivers told reporters after the game. "I told our guys, we just had so many of them -- 'My faults' -- where we just lost sight of guys, offensive rebounds, timely. We didn't finish any quarter right. Every quarter they made a run. At the end of (the first half), at the end of the fourth quarter, at the end of the third. It was a terrible game, but give them credit. They made some big shots."
While Rivers was satisfied with Boston's defensive effort on two of Portland's biggest stars -- rookie Damien Lillard (12 points on 5-of-16 shooting) and All-Star Lamarcus Aldridge (16 points, four rebounds) -- he pointed to the trio of J.J. Hickson, Nicolas Batum, and Wesley Matthews as the difference-makers for the Blazers. All three scored in double-figures, with Hickson adding 11 rebounds and Matthews providing a game-sealing 3-pointer with under a minute to play.
"Those three. I said it before the game: When they win, those three play well," Rivers said. "I thought all three of those guys -- I mean, Hickson had some timely rebounds and energy plays. And I thought, again, we did a terrific job on Lillard without trapping. Avery (Bradley) was just phenomenal. And Aldridge had a good game, but it wasn't a dominant game. But then you've got to stop the other guys and where I was not happy was we just lost sight of guys. Some of it was good offense, some of it was we didn't play defense the way we're capable of."
Matthews proved to be the real thorn in Boston's paw. He finished with a game-high 24 points on 8-of-11 shooting, including 5-of-8 from 3-point nation. His final triple was a difficult step-back straightaway bomb over the outstretched hand of Jeff Green that ended Boston's comeback hopes. Rivers begrudgingly accepted that shot because of the degree of difficulty, but wasn't pleased with how open his players left Matthews throughout the game.
"Wes made it tough," Rivers said. "The last three I can live with. That was a step-back three going to his right and, God bless him, he's done it all year. He's made some great shots. But I can live with that. It's the other ones where we're standing there and you lose sight of him. Wes is a smart player, he's been around, and he slides to the right area and he makes shots."
The Celtics fall to 1-3 on this five-game road trip, with the finale set for Monday night in Salt Lake City against the Utah Jazz. While hopes of at least a .500 trip were dashed on Sunday, Boston will look to rebound and persevere through some tired legs to try to come away with at least two victories over this stretch.