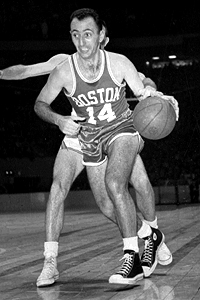 AP Photo
Bob Cousy hopes Paul Pierce will retire a Celtic when it's time to hang up his high-tops.The Worcester Telegram & Gazette reflects on the 50th anniversary of Bob Cousy's retirement (the "We love ya, Cooz" moment) and catches up with the Celtics legend for his thoughts on the modern-day squad. A sampling of Cousy on Paul Pierce and Kevin Garnett:
Prior to Thursday's trade deadline, a lot was said and written about whether the Celtics should have traded Pierce. Cousy believes strongly that Pierce, the franchise's second all-time leading scorer, should retire as a Celtic.

"I heard that Garnett said he wanted to die a Celtic," Cousy said. "I think Paul should feel the same way. His identity is completely tied to the Celtics. When he gets to be 84, he'll feel much better about having played his entire career with the Celtics than going somewhere and wasting a year or two even though he would have earned a few million bucks. For a lot of reasons, he'll be much happier in his retirement if he goes out as a Celtic."

The Celtics may deal Pierce before next year's trade deadline even if he wants to stay.

"I'd like to think," Cousy said, "that the Celtics would accommodate him if he says, 'I'd like to stay and play out my years with the Celtics,' but it's more difficult for them to do than for him to do."
Hop HERE to read the full story.