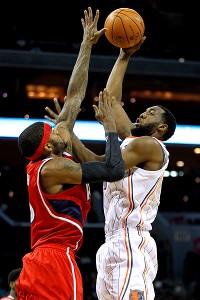 Streeter Lecka/Getty Images
D.J. White can help the size-craving Celtics.The Boston Celtics were waiting on a letter of clearance for soon-to-be-officially-signed forward D.J. White. As soon as that lands from China, White will don his new No. 12 jersey and dive into his 10-day contract. Here's what to expect from White when he's finally able to hit the floor for Boston:
* THE BASICS: The 26-year-old White has appeared in 124 career NBA games after being drafted by the Detroit Pistons with the 29th overall pick in 2008 (one spot before Boston took J.R. Giddens) and was flipped to Oklahoma City in a draft-day swap. His rookie season was almost completely wiped out (he appeared in seven games) after he underwent surgery on his jaw to remove a benign growth. White appeared in only 35 games over the next season-plus for Oklahoma City before being dealt with Morris Peterson to the Bobcats for Nazr Mohammed at the 2011 deadline. White averaged 6.8 points and 3.6 rebounds per game in 58 appearances (11 starts) for Charlotte during the 2011-12 campaign, his last season in the NBA. White posted 21.6 points and 9.7 rebounds per game in 32 appearances for the Shanghai Sharks this season in China.
* OFFENSE IN FOCUS: Last season with the Bobcats, White averaged 0.922 points per play, according to Synergy Sports data (a good number, ranking him in the 65th percentile among all players). His numbers were solid in transition (he can finish if you get him the ball running the middle of the floor) and he's got a serviceable spot-up game (shooting 45 percent from the mid-range). But even as a bit of an undersized big man, White really thrives on the glass. His offensive rebound rate (6.5 percent for his career) suggests he doesn't get to a lot of those caroms, but the ones he touches usually end up back in the hoop.
* DEFENSE NEEDS WORK: If there's something that's held White back in his pro career, it's his defense. During his final season in Charlotte, he allowed 0.905 points per play, which ranked him in the 26th percentile among all players. Playing for the Bobcats won't help your defensive numbers, but White owns a career defensive rating (points per 100 possessions) of 109. He's OK on the glass with a career defensive rebound rate of 18.2 percent (by comparison, Chris Wilcox is at a disappointing 15.3 percent this season; Paul Pierce grabs 19.6 percent of available defensive caroms). Even still, his career total rebound rate (12.2 percent) would make him the second best available rebounder on the 2012-13 Celtics (with Jared Sullinger injured, only Kevin Garnett owns a better number).
* BOTTOM LINE: The Celtics need big-man depth and White will get a chance to prove himself on short minutes. If he crashes the glass hard on both ends and up his defensive intensity on a team that will require it, he'll give himself a chance to stick. His numbers from China make him super intriguing and we've already heard a humbled Terrence Williams talk about how his time overseas changed his attitude. White might not have as much pure talent as Williams (a former lottery pick), but he's got size and Boston is going to give him every opportunity to help.
* ADDITIONAL READING: Our friend Brian Robb over at CelticsHub has a nice breakdown of what White can bring as well.