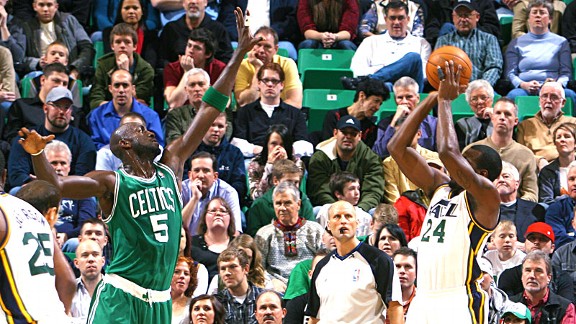 Melissa Majchrzak/NBAE/Getty Images
Kevin Garnett and the Celtics close up a five-game road trip in Utah on Monday night.The Boston Celtics (29-27, 9-18 away) visit the Utah Jazz (31-25, 21-6 home) on Monday night at EnergySolutions Arena (9 p.m., CSN). Here's what to watch for:


* BREAK AWAITS: The road-weary Celtics play their fifth game in seven days to wrap up this grueling west-coast trip. Boston has already been swept in three other road back-to-backs this season, including the Nuggets-Lakers combo to start this trip. While this game screams danger for the Celtics, they can empty the tank knowing a much-needed break looms. After Monday's game, Boston plays just once (a visit from the Warriors on Friday) over a seven-day span. That said, four of Boston's next six games are on the road and the Celtics absolutely have to find a way to grind out some wins away from home if they want to make their playoff path as agreeable as possible.
* SYNERGY SNAPSHOT: The Jazz rank 13th overall offensively averaging 0.925 points per play, according to Synergy Sports data. Utah struggles with spot-up shooting (shooting a mere 36.9 percent in that play type), but the team's size helps mask some deficiencies away from the basket. Keep an eye on Randy Foye as he's coming off a scoreless effort against the Clippers, but has quietly been the team's most efficient scorer, averaging 1.006 points per play and posted double-digit output in 14 of his last 16 games overall. He's a nice outside complement (along with now-healthy Gordon Heyward) alongside Utah's big bodies. Defensively, the Jazz rank 22nd overall allowing 0.936 points per play. Utah is 29th in the league against spot-up shooting and 27th against pick-and-roll ball-handlers -- two play types that account for more than 30 percent of opponents' total plays.
* SEVENTH HEAVEN: It's a battle of current seventh seeds when the Celtics and Jazz meet. Boston has a comfortable two-game edge over the Milwaukee Bucks (and a six-game lead over both Toronto and Philadelphia) in the East. Utah is 1½ games up on Houston in the West, but has to keep an eye on the Lakers as they sit 2½ games back while trying to sneak their way into the postseason. Boston and Utah are pretty similar: Thriving at home and unable to do much on the road. The Jazz have won 12 of their last 14 at EnergySolutions Arena.
* CAN C'S PLAY SMALL BALL?: The Celtics have leaned heavy on small ball since the All-Star break -- almost out of necessity amidst minor roster tweaks at the deadline -- and was able to force Phoenix to match up in its lone win this trip. The question is whether they can hang with Utah when the Jazz are unlikely to ever go small. If Boston can't generate consistent stops and fuel itself in transition, then Utah will be content to stay big and dominate the glass. With the Celtics likely to lean even heavier on Jeff Green amidst its lack of big bodies, Boston has to find a way to be more competitive on the glass when players like Green and Chris Wilcox are inconsistent rebounders off the bench.