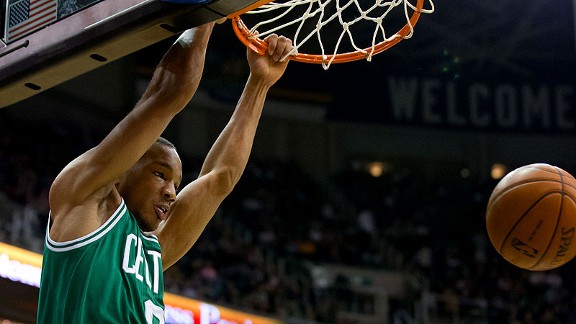 Russ Isabella/USA TODAY Sports
Avery Bradley gave the Celtics an offensive spark in the early going.Rapid reaction after the Boston Celtics defeated the Utah Jazz 110-107 in overtime on Monday night at EnergySolutions Arena:


THE NITTY GRITTY
Paul Pierce flirted with a triple-double, putting up 26 points on 10-of-20 shooting to go along with eight assists and seven rebounds and it was his offensive heroics in overtime that helped Boston escape with a gritty win to close out a grueling five-game road trip. Kevin Garnett added 13 points and 10 rebounds, while Avery Bradley carried the offense early, scoring a season-high 18 points on 8-of-12 shooting before deferring to the vets. Six of Boston's nine players finished in double-digits for scoring. Gordon Hayward scored a team-high 26 points on 7-of-16 shooting for Utah, while old friend Al Jefferson finished with 15 points and 11 rebounds.
TURNING POINT: PIERCE WORKS OVERTIME
The Celtics were playing their 10th overtime game of the season and 15th overtime session overall. After a rocky road trip, Pierce wouldn't let this one get away, scoring seven straight points -- starting with a go-ahead 3-pointer and following with two tough jumpers -- as Boston opened a 106-101 cushion and held on (only exhaling after Randy Foye's open look at a 3-pointer fell short at the buzzer).
A GAME OF RUNS
The Jazz put together a 17-2 burst in the second quarter while turning a seven-point deficit into an eight-point lead (Hawyard doing much of the damage while connecting on 4-of-6 shots -- including a trio of 3-pointers -- while scoring 12 points in the frame). Down eight early in the third frame, Boston embarked on a 20-4 run with Bradley and Pierce kicking in seven points apiece as the Celtics opened a 70-62 lead. Dizzy yet? Hang on. The Jazz were still down eight entering the fourth quarter, but went on a 13-2 burst and a Hayward dunk had Utah on top 85-82 with 8:41 to play. The teams hopped on the seesaw from there.
OVERTIME ... AGAIN
With the game tied at 95, Pierce came off a little pick-and-roll, got his defender in the air, and splashed an 18-foot jumper for a 97-95 lead with 36 seconds to go. The Jazz got caught scrambling at the other end, but Alec Burks put in a left-handed layup in traffic to force another tie with 19.9 seconds to go. Pierce missed a long turnaround jumper at the buzzer to force the extra session. This game featured 13 lead changes and 17 ties.
TIGHTENING UP THE ROTATION
Needing a win to close out this trip and with plenty of rest looming, the Celtics essentially ran with an eight-man rotation (Jordan Crawford played 4:41 in the first half, but both Terrence Williams and Fab Melo were DNP -- Coach's Decisions). That's a playoff-like shortening of the rotation for Boston, which essentially utilized just three bench players (Chris Wilcox, Jason Terry, and Jeff Green).
WHAT IT MEANS
The Celtics wrap up their five-game road trip at 2-3 overall, but they'll take it, particularly heading home for some extended rest. Boston plays only one game (a Friday visit from Golden State) over the next seven days, though four of its next five games after that are on the road again. With a couple new faces (Williams and Crawford) and another one waiting in the wings (DJ White), Boston will get some much-needed practice time to integrate those players with the final 25 games of the regular season looming. For now, they'll savor a scrappy win with a vintage Pierce effort in the extra session. That'll make the flight home from Utah a little easier to endure.