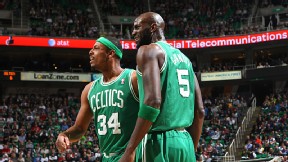 Melissa Majchrzak/NBAE/Getty Images
Paul Pierce and Kevin Garnett put the Celtics on their backs in Utah.The Boston Celtics sent a friendly reminder to the rest of the league with Monday's overtime win in Utah: Never write this team off.
Playing the final night of a grueling five-games-in-seven-days stretch that had seen Boston drop three of its first four contests out west coming out of the All-Star break, the Celtics had every reason to roll over in a particularly difficult environment. Instead, Paul Pierce put on a vintage display, scoring seven consecutive points in overtime, highlighted by a go-ahead 3-pointer and two tough jumpers as the Celtics emerged with a gritty 110-107 triumph over the Jazz at EnergySolutions Arena.
With the luxury of extended rest looming, Celtics coach Doc Rivers utilized a playoff-like rotation, shortening up his bench even on the second night of a back-to-back while treating this game like a bit of a must-win situation to salvage a frustrating road trip. Pierce simply wouldn't let this team lose.
"Whatever that is, it was the best win, for me, of the year," admitted Rivers.
This was a statement game for a Boston team stuck in the mud of the seventh seed in the Eastern Conference. The Celtics had won eight of nine before the All-Star break, but benefitted from a home-heavy schedule and maybe some overachieving in the face of injury woes. This trip out west -- particularly with the trade deadline wedged in the middle -- was supposed to reveal a lot more about this team.
Celtics president of basketball operations Danny Ainge ultimately elected to keep his core together and the team made just a minor deadline splash by adding Jordan Crawford to add guard depth after losing Rajon Rondo and Leandro Barbosa to ACL injuries. But Boston was still a disappointing 1-3 to start the trip -- its road woes this season spotlighted further by inconsistent play while falling to the Nuggets, Lakers, and Blazers. The only win in the bunch came against hapless Phoenix and Kevin Garnett sat out that night with Rivers imploring him to rest his weary legs.
Just when the rest of the league was ready to dismiss Boston's potential as a real postseason threat, the Celtics offer a friendly reminder that this team always has to be accounted for.
The Jazz certainly didn't make things easy on Boston and the game's 13 lead changes and 17 ties only felt like they occurred in the final six minutes of regulation. But Pierce refused to let this one slip away, even after missing on a broken-play opportunity for the win at the end of regulation.
Down two with 2½ minutes to go in the extra session, Pierce hit a clutch 3-pointer to push Boston back out front. He got the rebound at the other end of the floor, then made a tough 11-foot jumper. After another Jazz miss, Pierce pushed it to seven straight points with another difficult jumper that had Boston out front 106-101 with 72 seconds to play.
And that's what makes this team so dangerous. Sure, the Celtics' depth has been eroded from a trio of season-ending injuries over a three-week span and Boston's role players have been inconsistent at best this season. But 35-year-old Pierce and 36-year-old Garnett just refuse to let this ship sink -- and that's part of the reason Ainge and Co. were reluctant to even entertain the idea of shipping them out last week.
Rivers initially tried to sub out Garnett at the start of the extra session, only for him to talk his way back in. Sure enough, Garnett hit a 19-foot jumper for the first points of the extra session.
"It's funny, at the start of the overtime I told Brandon [Bass], 'Go in for Kevin,' [but] Kevin wouldn't let me," Rivers told reporters. "He said, 'No, no, I'm good.' I didn't believe that, but I kept him in and he was terrific.
"Paul down the stretch just carried us. We found something we liked in the pick-and-roll with the spacing, and if they helped out, Kevin got the elbow shot. If they didn't help, Paul turned the corner. And then the [defensive] stops. I thought we junked the game up. You know I'm not a fan of that, but we did it. We went zone, we started trapping all around the floor. And I just thought our trap was so bad it was good. We didn't know what we were doing and they didn't know what we were doing, and I thought it created confusion and it worked. But I tell you, the trap that we were doing, we had no clue what we were doing. It literally caused confusion for both teams, and it was good for us."
Controlled chaos. That just about sums up these Celtics.
Pierce finished with 26 points, eight assists, and seve rebounds -- his typical recent flirtation with a triple-double while giving the game what it needs in this post-Rondo era. Pierce was a team-best plus-10 in plus/minus and essentially willed his team to victory, one night after Boston couldn't make the clutch plays down the stretch while fumbling away a potential win in Portland.
The Celtics can ill afford another injury -- Rivers has joked that his players simply are not allowed to get dinged up from here on out -- and Boston has been downright terrible on the road this season (10-18 overall). But there's a lot to be said for a win like this in Utah against a team trying to protect its own playoff position in the West.
And it's how Boston emerged. The Celtics have now played 10 overtime games this season (6-4 in those games) and 15 overtime sessions. That's 75 minutes -- a game and a half -- of extra basketball for a team just trying to get to the regular-season finish line.
Rivers' preference for health over victories might not allow the Celtics (30-27) to make much of a move in the East seedings over the final 25 games, but they sit only three games back of the No. 4 seed Hawks and Nets (and five games back of the Atlantic Division-leading Knicks with two head-to-head matchups looming). As Rivers declared in Phoenix the other night, the Celtics simply want to "be a seed."
A seed that no one else is going to want to dig up in the playoffs. With Pierce and Garnett at the helm, this team remains determined and dangerous. They reminded the rest of the league of that with Monday's win.