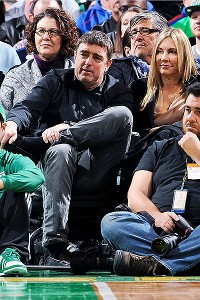 Brian Babineau/NBAE/Getty
Celtics owner Wyc Grousbeck watches his team courtside at TD Garden.Celtics CEO Wyc Grousbeck said the names of veterans Paul Pierce and Kevin Garnett came up often in the days leading up to last week's trade deadline, but the team never received a serious offer that would have justified breaking up its core and turning its full attention to the future.
Making an in-studio appearance on Boston sports radio WEEI (93.7 FM) on Tuesday afternoon, Grousbeck hinted that Celtics president of basketball operations Danny Ainge considered all options, but was ultimately underwhelmed by available offers and elected to stay the course with Boston's veterans.
"I know what the offers were; you wouldn't have taken them," Grousbeck said in response to a caller that expressed frustration that the team didn't look to the future. Earlier in the interview, Grousbeck admitted injuries and inconsistent play had forced the team to consider longer-term options, but stressed that this team still believes it is capable of competing in the postseason.
"I'd say this, for the last two or three days before the deadline, their names [Pierce and Garnett] came up more than anybody else," said Grousbeck. "They were the topic of conversation with the calls coming into us, because people thought maybe we weren't going to keep it together this spring -- that maybe it was time to start to rebuild more aggressively.
"Look at the young kids we've got -- we've got [Avery] Bradley, we've got [Jared] Sullinger coming back, [Rajon] Rondo coming back -- they are coming off surgery, but we think they are going to be alright. We're starting to load up a little bit younger, Courtney Lee is a younger guy; obviously Jeff Green. There's a core there building. So do you start to add a couple more pieces to it as Paul and KG reach the end of their careers? That's going to happen at some point, it didn't happen this week."
Grousbeck said the team entered deadline week focussed on the present.
"The assumption going in was that these guys had played well enough and it's a team that's building, and that we have a chance to do something and be a nasty opponent in the playoffs," said Grousbeck. "So the assumption going into any February, as long as I'm around, is going to be to make the team better for this year. Don't blow it up in the middle if you're in a playoff position. Having said that, there's always the future to look for. I've been here 10 years, I understand you don't live game to game, you live from year to year. So you have to look at the future as well."
Grousbeck did admit he kept an open mind to swaps with the future in mind.
"I was at least leaving the possibility open," said Grosubeck. "If we were 5-50 or whatever, we'd be pretty likely to do almost anything to make that better. But I like the way this team has been playing. We need some help, though; we need some more guys. We got some younger guys in, Jordan Crawford is one of them. We'll see -- it really hurt to lose [Leandro] Barbosa. It hurt to lose Rondo, it hurt to lose Sullinger -- the icing on the cake was losing Barbosa, who was really playing well, lot of energy, defensive intensity, some length, some offense. We tried to add specifically to those skills, and tried to add a couple big guys or bigger guys, energy guys. We'll see what happens."
With Ainge drawing scrutiny from some observers for standing pat in the face of long championship odds, Grousbeck noted that trades are (at least) a two-way street.
"Let me tell you, and we saw this last year when we had a trade blow up five minutes before the deadline, it's the other [teams] mostly," said Grousbeck. "Most of the other teams in this league are not as confident as we are in making trades. We are aggressive in exploring things, we think things through. I'm not saying we're always right. But we are more likely to make a trade and stick to it than anybody else I can think of in the league. Most the rest of them are afraid to do anything. They'll say they'll do it and then they won't. It takes two. It takes two teams to trade, and it's very very incorrect to accuse us of not looking for things, or listening to phone calls, because we do that probably more than anybody else."
Later Grousbeck added: "Danny knows that I've got his back. It's a very good working relationship and it goes all the way back to the first day [ownership] came in here. It takes two teams. Almost nobody made a big deal in February... It was a very cautious February. The league was not anxious to make big moves. There's going to be a ton of moves in June and July, I believe. It's all pent-up demand. There's a lot of people that need to start rebuilding, and I think June and July will be very active this year."
While taking calls as part of an hourlong appearance, Grousbeck hinted the Celtics had intriguing deals that, had they developed, might have forced the team to consider moving a veteran. But it never materialized.
"We did not receive good enough offers to make any moves last week," said Grousbeck. "The deals just weren't there. There was some things that were interesting, and other teams pulled out and fell through -- one was a four-team complicated trade, with all sorts of guys moving around, and we were thinking about it. Then we got the call that two of the other teams -- who we weren't even talking to, they were just also involved; they weren't really our contact -- they had both pulled out. It just happens that way. We didn't have the deals to do."