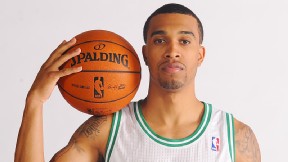 Brian Babineau/NBAE/Getty Images
Courtney Lee came on strong in February.Between the Celtics winning seven of their first eight games in February, the All-Star break, the trade deadline, and the recent five-game road swing, Courtney Lee wasn't about to dominate the headlines, but the versatile guard just delivered arguably his finest month of the season.
Like many on Boston's roster, Lee had struggled through waves of inconsistency, but February saw him deliver a consistently balanced game that featured season-highs in a wealth of statistical categories.
Lee's February averages of 28.2 minutes, 10.3 points, 3.2 rebounds, and 2.6 assists were all higher than those of any other month this season, as were his overall field goal percentage (47.2) and 3-point field goal percentage (41.4 -- the first time he's eclipsed the 40 percent mark for an entire month).
Lee has settled back into a starting role since Rajon Rondo was lost for the year with a torn right ACL, and has deferred the primary ball-handling duties to fellow combo guard Avery Bradley. But that hasn't deterred Lee from being aggressive on the offensive end of the floor. As his shooting and scoring numbers indicate, he's settled into a comfortable offensive groove and has made an effort to take high-percentage shots. According to NBA.com, in the month of February, Lee's taken more field goal attempts (40) in the restricted area than from any other location on the floor. Add in him knocking down eight of his 16 corner 3-point field goal attempts this month, and it's clear Lee established himself as a reliable inside-outside scoring threat for the Celtics.
Lee also finished February with his second-highest monthly usage rate of the season (16.5), but didn't settle for simply scoring points on his own. According to NBA.com, he finished the month with an assist percentage (the percentage of teammates' field goals a player assists on when he's on the floor) of 14.5 percent, good for his second-highest monthly figure of the season. By comparison, Lee's season-long assist percentage is 11.2 percent.
While Lee had a standout individual month, the Celtics as a team were minus-1.4 in plus/minus per 48 minutes with him on the floor, though Lee registering a woeful minus-13 in the Celtics' ugly 71-69 win over the Chicago Bulls just prior to the All-Star break might have been enough on its own to dip him into the red.
Just prior to the All-Star break, as he was settling into a steady groove, Lee acknowledged that the Celtics' emphasis on team-wide ball movement in the wake of losing Rondo was better suited for his individual skillet. He continued to deliver on that claim after the break, as he forged together a very solid month of basketball that Boston is hoping will spell good things for Lee as the playoffs continue to draw closer.