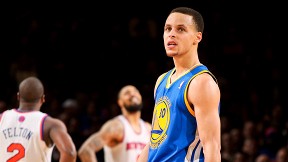 Nathaniel S. Butler/NBAE/Getty Images
Steph Curry had a big night in New York; the Celtics want to prevent a repeat on Friday.Celtics coach Doc Rivers marveled at the offensive outburst from Golden State's Steph Curry on Wednesday night in New York. Over the next 48 hours, Rivers has to figure out how to make sure it doesn't happen again.
Curry erupted for 54 points on 18-of-28 shooting (11 of 13 beyond the 3-point arc) in a 109-105 loss to the Knicks. The Warriors visit TD Garden on Friday night and Rivers admitted part of him went from strategizing coach to pure fan watching Curry's performance on Wednesday.
"That was special to watch. You may start out as coach, but as it went on, you marvel just like anyone else," Rivers said Thursday morning during his weekly call to Boston sports radio WEEI (93.7 FM). "Some of the shots he was making was spectacular."
So how do the Celtics contain Curry?
"You foul him," quipped Rivers. "I don't know. When a guy gets in a zone like that, it's just hard. It's so easy to say deny him, but he's the point guard, so he always has the ball in his hands, for the most part. That's what makes it so difficult. [Other scorers] who are off the ball, you have a better chance, but a guy with the ball, in that zone, that's hard."
The Celtics will likely give Curry a healthy dose of Avery Bradley, hoping his ball pressure can prevent a similar outburst.
"[Bradley's] thing is to bother your dribble, that's what he does so well," said Rivers. "He puts so much pressure on the ball-handler. What [the Warriors] do a great job of is, Steph gets a lot of shot off the dribble, but then he gives it up and they bring him off three, four, [or] five picks as well, and that's not so easy."
Rivers noted how Bradley's pressure in Monday's win in Utah might have changed the complexion of that game, forcing Utah away from its post offense, where it had a considerable size advantage against Boston.
"[Bradley's ball pressure] has been key to our defense, the ability to -- you think about the Jazz game, the size advantage they had -- as the game went on they went less and less to the post," said Rivers. "They didn't have enough time. Avery single-handedly, at times, took them out of their post game."
Read on for a handful of quick hits from Rivers' call.
* BEST WIN IN UTAH?: Asked about his declaration that Monday's win was his team's best of the season, Rivers noted, "For a team, the mental toughness they had to show -- let's just be honest, when that schedule came out, and you saw saw that fifth game in seven nights, time zone change, you didn't like the way it looked."
* TRADE GOT CLIPPED?: Rivers downplayed all the chatter about a potential Celtics-Clippers swap that would have sent Kevin Garnett to Los Angeles at the deadline. "Just because ESPN says there talk, does not mean there's talk of significance. [Celtics president of basketball operations] Danny [Ainge] talks to everybody, I'm sure, and everybody calls him. But very few big discussions are made, at least this year, and that was the case with the Clippers."
* VETS IN PLAYOFFS: Asked if he was worried about whether his veterans like Garnett and Paul Pierce could sustain their play in the postseason, Rivers scoffed at the notion that they might falter. "I think they'll be great when the playoffs starts, I think they'll be better because there's more rest and our key is to get them there fresh," he said. "I thought that may have had something to do with Danny not making a trade… I didn't think anything was out there that appealed to us."
* INTEGRATING NEW FACES: With some practice time this week to further integrate new faces like Jordan Crawford, Terrence Williams and D.J. White, Rivers said the key is to not overload them. "Understand that they are not going to pick up everything and try to teach them the things you really need them to pick up, defensively and offensively," said Rivers. "Then try to integrate what they do well into the little things that you're going to give them. Because you know you can't give them everything."