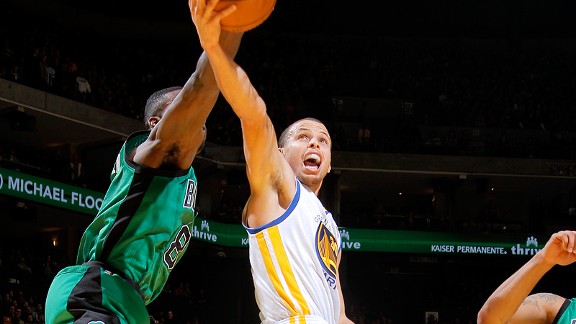 Rocky Widner/Getty Images
Golden State's Steph Curry is coming off a monster effort against the Knicks.The Boston Celtics (30-27, 20-9 home) host the Golden State Warriors (33-25, 15-18 away) on Friday night at TD Garden (7:30 p.m., CSN). Here's what to watch for:


* WELL-RESTED C'S RETURN HOME: The Celtics were playing top-notch ball at TD Garden going into the All-Star break, winning seven in a row here (including an undefeated February). Boston hasn't lost at home since Jan. 24 against the Knicks. What's more, the Celtics own a defensive rating of 94.8 at the Garden this season, which should pair well with three days of rest (Boston has posted a defensive rating of 92.1 in four games played after three days' rest this season). With three more off days looming after Friday's game, Boston can afford to run with a slightly tightened rotation again if coach Doc Rivers desires.
* SYNERGY SNAPSHOT: The Warriors are a top-10 offensive team, averaging 0.94 points per play, according to Synergy Sports data. Golden State has the fifth-best numbers in transition (1.175 points per play), but is also fourth-best in spot-up shooting (1.055 points per play) -- its two top play-types, accounting for 30.6 percent of its total plays this season. More than a third of the offense goes through Curry and David Lee, but keep an eye on Carl Landry. The sixth-year forward is averaging a team-best 1.048 points per play, ranking in the 92nd percentile, and he often quietly flirts with double-doubles. Defensively, the Warriors rank 15th overall at 0.931 points per play. Golden State does a nice job limiting transition damage (6th overall), but is a mere 21st in half-court defense (really struggling against pick-and-roll ball-handlers). Curry (0.968 points per play, 13th percentile) has been a liability on that end, while Jarrett Jack is the team's most efficient defender (0.798 points per play, 76th percentile) among top rotation players.
* CLEANING THE GLASS: The Warriors are fourth in the league in defensive rebound rate (74.6 percent) and 10th in total rebound rate (51.1 percent). Andris Biedrins owns a team-best defensive rebound rate of 24.8 percent, while Lee is close behind at 23.5 percent. Draymond Green is an excellent defensive rebounder from the small forward position. Undersized Boston, even if it gets a small boost from newly added D.J. White, needs to be competitive on the glass and can't allow the Warriors second-chance opportunities.
* BRADLEY VS. CURRY: We're burying the lead a bit; hop HERE to read our story on the impending showdown between Curry, coming off a 54-point outburst in New York, and Boston's top defensive stopper. Bradley missed the first matchup between the two teams in December, but this battle of young guards will be in the spotlight with Curry putting up some gaudy numbers lately.