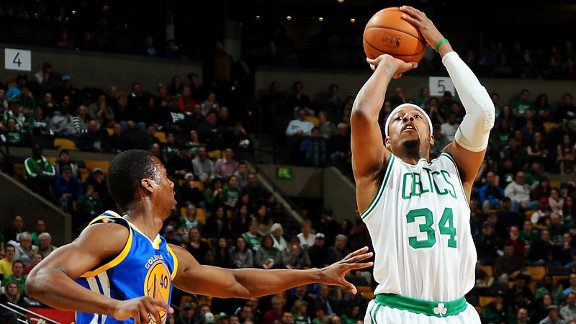 Brian Babineau/NBAE/Getty Images
Celtics captain Paul Pierce gets up a shot against the Golden State Warriors on Friday night.BOSTON -- Rapid reaction after the Boston Celtics defeated the Golden State Warriors 94-86 on Friday night at TD Garden:


THE NITTY GRITTY
While all the pregame hype surrounded Golden State's 24-year-old scorer Stephen Curry, it was 35-year-old Paul Pierce who stole the show, scoring a game-high 26 points on 9-of-15 shooting to go along with eight rebounds and four assists over 36½ minutes. Jeff Green overcame a hard fall on his left elbow in the third quarter to score 18 points on 8-of-12 shooting (Boston's only other player in double digits) to go along with five rebounds, three blocks and two assists. Curry scored 25 points, but on 6-of-22 shooting, missing eight of the 11 3-pointers he hoisted (he did make all 10 of his free throws), while finishing with six assists and four turnovers. David Lee added 10 points and a game-high 19 rebounds for the Warriors.
TURNING POINT
The game was knotted at 60 with under three minutes to play in the third quarter, but Chris Wilcox ignited a little 9-0 burst with a dunk. The run also featured a Jason Terry 3-pointer (his first points of the night) and two jumpers from Green. During third-quarter play, Green hit the floor hard and needed to ice a bruised left elbow before returning with a protective sleeve. He proceeded to make 6-of-8 shots while scoring 12 points over the final 14 minutes.
SPOTLIGHT: BRADLEY VS. CURRY
The much-ballyhooed Avery Bradley vs. Curry matchup saw Boston's defensive-minded guard dominate early. When Bradley checked out with under two minutes to play in the first quarter, Curry had one point and two turnovers while missing his only shot of the night. Curry feasted on backup Jordan Crawford a bit, helping him pile up 16 points on 3-of-9 shooting over 20:41 in the first half. But the matchup fizzled when Bradley picked up two fouls in the first four minutes of the second half -- giving him five for the night -- and forcing him to the bench. Curry went 0-for-2 with no points over the final eight minutes of the frame, however. Bradley returned to guard Curry in the final minute to prevent any late rally.
KG LEAPFROGS OLAJUWON
With a team-high 13 rebounds in Friday's game, Garnett leapfrogged Hakeem Olajuwon into 11th place all-time for most career rebounds. Garnett now has 13,758 and will soon enter the top 10, with Wes Unseld (13,769) in his sights.
WHAT IT MEANS
The Celtics (31-27) have now won two in a row to move back to a season-best four games above .500. Boston, playing on three days' rest, gets three more days off now. The Celtics don't play again until Tuesday night in Philadelphia as part of another road back-to-back that takes them to Indiana on Wednesday. Four of Boston's next five games are on the road (stopping back at the Garden for next Friday's visit from the Atlanta Hawks).