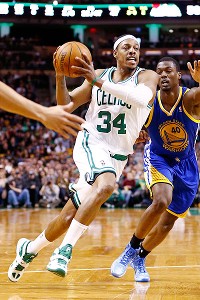 Mark L. Baer/USA TODAY Sports
Paul Pierce scored a game-high 26 points against the Warriors.BOSTON -- Paul Pierce admitted prior to Thursday's practice that he's been battling persistent neck pain related to a pinched nerve, but any discomfort appeared to take a night off on Friday as he scored a game-high 26 points in the Celtics' 94-86 victory over the Golden State Warriors.
The Celtics were seeking a bit of revenge after Golden State dealt them an 18-point thrashing back in December. But with Avery Bradley in the lineup this time around, stifling the likes of Stephen Curry and Jarrett Jack in the backcourt -- and Pierce providing a consistent scoring burst throughout -- the Celtics pulled away late and righted the ship a bit after a lukewarm 2-3 mark on their recent five-games-in-seven-nights road swing.
Pierce shot 9-of-15 from the floor on Friday and added eight rebounds and four assists to his totals while finishing with a plus-14 mark in plus/minus.
Boston's captain was able to help salvage Boston's road stint by putting in seven points in the extra session of Monday's 110-107 overtime victory against the Utah Jazz, and though the days off prior to Friday's bout were helpful for his weary legs, they didn't cool his shooting hand.
Pierce helped the Celtics start fast on Friday, scoring 13 points in the first quarter on 5-of-8 shooting. Not even some potential neck pain was enough to keep him from slicing to the basket, as he connected on a host of strong drives to the rim to establish an early rhythm.
"I wanted to come out and be aggressive, go to the basket," Pierce said. "It was very disappointing watching the last game against Golden State, how we played. Coach [Doc Rivers] said they were the aggressor the whole night, they pushed us, we didn't push back. So I wanted to come out and try to set the tone offensively, be really aggressive in going to the basket, taking the shots that were there, and try to bring a physical presence to the game, and that's what I tried to do."
But both Pierce and the Celtics wilted slightly in the third quarter. After carrying a 50-46 lead into halftime, Boston saw its short lead evaporate minutes into the third frame and had difficulty generating the offense it had over the first two quarters. Pierce pointed to himself as one of the causes for the letdown, citing his four turnovers in the period, but also took it upon himself to swing things back in Boston's favor, which he did with a fast-break dunk with just under five minutes to play in the frame.
Pierce secured a Festus Ezeli miss, motored up the right side of the floor, and, after spotting an opening in the lane, stormed past Harrison Barnes and rose up for a loud slam that ignited a 9-4 Celtics run to end the frame, giving Boston a 69-62 lead heading into the fourth.
"I give Paul a lot of credit, he basically said, 'That's on me. That's my fault.' I gotta get that," Rivers said. "I thought we were hanging our heads a lot in the third quarter. We were just turning the ball over and missing shots. The end of the world is not going to happen, you just have to keep playing. I didn't like the way we responded to that. And I thought Paul did a good job in a timeout right after that getting guys back."
Added Pierce: "I think I was the one that kind of brought the body tone down a little bit, because I made some bad turnovers there to start the third quarter and it kind of got me down. So it was up to me to kind of get it back, get the team back going, and that's what I try to do. I can't have any lapses like that, because it really affects the team and I realize that, so I have to do a better job in that department."
Pierce jokingly conceded that his dunk wasn't on the level of some of the ones Jeff Green has delivered this season -- Green was quick to agree with him -- but it was more than enough to set the Celtics back on the right track as they gathered themselves and used a healthy balance of defense and scoring in the final frame to vanquish the Warriors for good.
And as for that neck pain, Pierce reiterated that it'll be a season-long issue. But he's happy to take advantage of nights like Friday, when it doesn't limit his impact on a Celtics win.