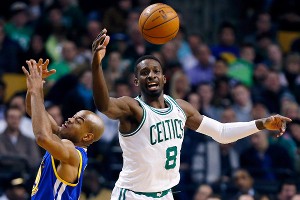 AP Photo/Michael Dwyer
Jeff Green hit the floor hard in the second half, but bounced back strong.BOSTON -- The sight of another Boston Celtics player writhing in pain on the floor was the last thing any Boston fan wanted to see. Jeff Green spilled hard to the parquet on a third-quarter drive on Friday night, bruising his left elbow, and he needed a little time to dull the pain.
"I didn't hurt myself, I was tired, so I wanted to lay there a little bit, catch my breath," Green deadpanned after Friday's 94-86 triumph over the Golden State Warriors.
After a quick ice-down on the bench, Green slipped on a shooting sleeve and returned to connect on six of his final eight shots, scoring 12 points over the final 14 minutes. He finished with 18 points -- the only player besides Paul Pierce in double figures -- on 8-of-13 shooting with five rebounds, three blocks and two assists over 27:29.
Hitting the floor provided the roughest of wakeup calls.
"It did, it kind of woke me up a bit," said Green. "It kind of got my shot to start falling. I'm happy I fell."
Speaking of falling, Green's jumper has slowly developed into a consistent weapon. On Friday night, he made all five of the two-point attempts he took away from the rim. Celtics coach Doc Rivers thinks he's finding his spots when Boston spaces the floor.
"I thought Jeff struggled [early] and it was almost after he went down that he came back in and played really well," said Rivers. "I thought he kind of got it going. In his defense, offensively, I thought our spacing was poor in the first half. Every time, there were no driving lanes for him, and we were small. And when you're small, you should have a lot of driving lanes."
When those lanes opened in the second half, Green took advantage. Even if it resulted in one hard spill that he'll likely feel when he rolls out of bed Saturday morning, he played coy on what actually happened.
"My whole body hit," said Green. "Whatever hurts in the morning, I guess, that's what I fell on."
After carrying the offense in the first half, Paul Pierce liked what Green did late in the game.
"He was awesome tonight; he really carried us that fourth quarter, took it upon himself to be aggressive," said Pierce. "He's coming into his own, after a slow start, which you can expect. It's tough when you take a year off from basketball and try to get back in the game, but I think, since January, he's just been phenomenal, very consistent doing what we ask on both ends of the court, and he's getting better and better as time goes on."