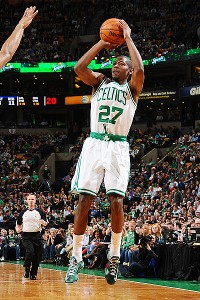 Brian Babineau/NBAE/Getty
Doc Rivers wants recently acquired Jordan Crawford to keep shooting.When the Celtics traded for Jordan Crawford last week, they were doing so with the expectation that he would develop into a more efficient shooter and scorer. That was the knock on Crawford -- a career 39.9 percent shooter -- during his time in Atlanta and Washington, that he took too many low percentage shots and didn't make enough of them.
Through four games with the Celtics, he hasn't exactly dispelled that notion, having made only seven of his 21 field goal attempts (33.3 percent). Friday's 94-86 victory over the Golden State Warriors -- Crawford's home debut -- saw him misfire on four of his six field goal attempts, including one in the first quarter in which he spun toward the rim on a fast-break bid and was turned away by three defenders.
But head coach Doc Rivers stressed patience with Crawford, providing encouragement for the 24-year-old guard as he continues to adjust to his new Boston surroundings.
"That's fine by me," Rivers said of Crawford looking for his shot. "I want him to be aggressive. Again, I think Jordan, [observers are] looking for him to make a bad offensive play. Paul [Pierce] made one; Kevin [Garnett] made one. Offensive players are going to make a couple bad offensive plays. I thought he made far more good ones than that. I want him to stay aggressive. I thought that [first-quarter drive] could have been a foul, he just went into the trees and couldn't get out. I don't want to take away what he can do, that's very important."
Of the 21 field goals Crawford has taken since joining the Celtics, nine have come in the paint, while the remaining 12 have either been mid-range jump shots or 3-pointers, according to NBA.com shot-location data. Crawford has connected on three of his nine looks in the paint, but is just 4-for-12 outside of the lane.
A closer look at Crawford's shot locations shows that five of his 12 outside looks have been mid-range jumpers and he's made just two of them (40 percent). He's taken seven 3-pointers, though of the four he's taken from the corner spots, he's connected on only one of them. While Crawford hasn't exactly been shy from the mid-range, he hasn't fully neglected attacking the basket, either.
Rivers' call for patience might come with the hope that Boston can continue to help Crawford hone his shot selection without limiting his freedom on the offensive end. It's not necessarily about having Crawford take fewer shots or look to score the ball less, but about finding the best shots available as often as he can.
As Rivers alluded to, he's comfortable with his scorers making a poor offensive decision once in a while, as long as they demonstrate an ability to outweigh the bad choices with good ones. Knowing that Boston brought in Crawford to be a Leandro Barbosa-type "wild card" off the bench and that he can be most effective when he's looking to score, Rivers isn't about to discourage Crawford from doing what comes natural to him.
Crawford admitted before practice on Thursday that he was hoping to find a steady comfort zone right away in Boston, and while the team has fully embraced his presence, he said after Friday's win that he knows it'll take a few more games for him to feel fully acclimated.
"It's going to definitely take some games, just learning how to play off people, read each other, where they like to be on the floor," Crawford said. "So it's going to take time."