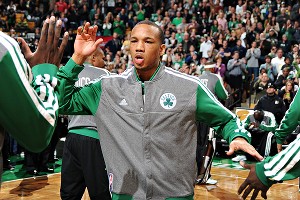 Brian Babineau/NBAE/Getty Images
Avery Bradley's leadership role has intensified this season for the Celtics.WALTHAM, Mass. -- The Boston Celtics went through practice Sunday without coach Doc Rivers and three veteran leaders -- Kevin Garnett, Paul Pierce and Jason Terry -- on the floor. Rajon Rondo is off rehabbing an ACL injury and the practice floor featured nearly as many newcomers (four) as guys who started the season with the team (five).
In fact, of the nine players on the floor, the average age was roughly 26.2, with 30-year-old Chris Wilcox and 29-year-old Shavlik Randolph the elder statesmen of the bunch. So where does the leadership come from at that point?
The youngest guy in the pack, of course, in 22-year-old Avery Bradley.
Having taken on more responsibilities since Rondo went down, particularly as the first-unit ball-handler, Bradley has ascended to a key role as the team's first-string quarterback. What's more, his infectious defensive intensity has essentially made him a leader by example.
"His defense speaks loud," said assistant coach Armond Hill, tasked with running Sunday's skeleton session. "He steps on the floor and guys know that he's going to be picking up [the opposing ball-handler full court]. So if he's going to pick up, then everyone has to pick up. That's good. Our defense goes to another level, especially if he gets a steal or something like that. It brings everyone together more."
Bradley saves most of his vocality for screaming out defensive instructions (though his voice might never be as loud or as expletive-filled as that of Garnett). In a locker room dominated by veteran voices such as Garnett, Pierce and Rondo, it's Bradley's on-court play that speaks loudest.
In the 15 games since Rondo was lost for the season with an ACL tear, Bradley is averaging 10.1 points, 3 rebounds and 2.3 assists over 30.6 minutes per game. Boston's offense hasn't lagged with him running the show as the team's offensive rating (points per 100 possessions) is a solid 102.6 when he's on the floor, more than two points above the team's season average.
Bradley's defensive exploits are well documented (and hammered home by his latest hounding of Golden State's Steph Curry the other night, where only shooting fouls diminished a stellar effort against a ruthless scorer). On a team that's been ravaged by injuries, there's a strong case to be made that Bradley is the most important remaining element beyond Pierce and Garnett.
And if this team is going to accomplish anything this season, it's likely going to be in large part because of Bradley's quiet leadership.