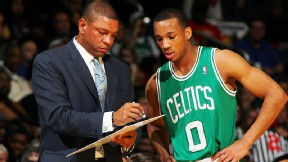 Ned Dishman/NBAE/Getty Images
Avery Bradley conferences with coach Doc Rivers.WALTHAM, Mass. -- During a break in the action of Friday's game against the Golden State Warriors, a referee approached Celtics coach Doc Rivers to ask if Avery Bradley had really endured double shoulder surgery before the season. We'll let Rivers take it from there.
"[The referee] said, 'I had one shoulder done and I was out six months and I still feel bad.' I said, 'That's why you're an official,'" Rivers recalled with a laugh. "I did see three bad calls after that, I said, 'My gosh, I was just joking.'"
Both Rivers and Kevin Garnett admitted that Bradley is likely not 100 perent this season. That hasn't stopped him from playing relentless defense, the sort that even officials take notice when he's hounding the likes of Golden State sharpshooter Steph Curry. Bradley missed the first 30 games of the season while rehabbing from surgery on both shoulders this offseason, which only makes what he's doing defensively all the more impressive.
"Avery is everything to our defense," said Garnett. "I think he's the anchor, if you will. He's the true inspiration of what it is. He's up on the ball, like 90-95 percent of the time. If you look at any other guard in the league, no one is playing defense like he is. He's just tenacious man. I call him the silent leader and it's by example."
With the veterans getting a day of rest on Sunday, Bradley's leadership was thrust into the spotlight, even as the youngest player on the floor as part of the team's nine-man practice.
"Although he isn't really loud, he's very vibrant," added Garnett. "I don't think he's 100 percent [healthy], which is scary. I think he's still working through some things with his past injuries, but he's playing hard and he's giving us everything he has when he's on the floor."
Rivers admits it's unique to find a player like Bradley, who is willing to invest so much of himself on a side of the ball where statistics still struggle to fully quantify his impact.
"He's unique. It sets him apart in a lot of ways," said Rivers. "There's not a lot of guys that want to [pressure the ball]. There are probably a lot of guys that can do it, but there are very few that want to, and that's the key part. Avery enjoys it, he enjoys the defensive assignments. He looks at the other team's best player at the 1, 2, or even 3 at times, and he's looking forward to matchups. That's a guy who understands who he is, and that's a good sign."
Bradley is second in the league while allowing a mere 0.678 points per play, according to Synergy Sports data (old friend Marquis Daniels is actually first among players with at least 200 defensive possessions this season). Opponents are shooting a mere 30.9 percent against him and generate points on just 31.4 percent of possessions against him (also second in the league). And that only scratches the surface as Rivers often points out how his ball pressure often forces opponents into their sets late and causes rushed shots that improve Boston's overall defensive numbers.
Just imagine what he's capable of when he's 100 percent.