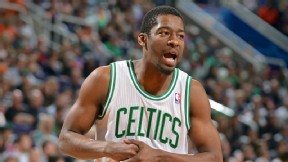 Barry Gossage/NBAE/Getty Images
Jordan Crawford is making the most of practice time.WALTHAM, Mass. -- Jordan Crawford's been with the Celtics a little less than two weeks, but he's no longer alone in his quest to adapt to his new surroundings.
Boston now has a small contingent of players -- Crawford, Terrence Williams, D.J. White, and Shavlik Randolph -- working towards the same goal: Learning the sets with an eye towards being able to contribute when or if called upon.
On top of their usual practice responsibilities with the whole team, the four-man group has gotten together before and after official sessions to scrimmage and repeatedly run through offensive and defensive plays under the watchful eyes of the Celtics' coaching staff. Monday saw them gather roughly a half hour before the team's full-squad session so that they could work on a handful of sets before joining the regulars.
"We're just really going over the plays," Randolph said. "We've only really had like a couple team settings to learn the things, so we're just trying to get repetitions of the plays so we can know them better."
Randolph and White are still working on 10-day contracts, while Williams recently agreed to a deal that'll keep him here for the rest of the season. Crawford and Randolph both admitted that having four players all in the same scenario has made the adjustment process easier to deal with.
"(The regulars have) been here for a minute, so they know everything and the new players can come in and get adjusted while (the regulars) don't have to come in and help us out," Crawford said. "It makes it easier."
Added Randolph: "It definitely makes it easier that there's a couple other people in similar situations coming in, not really knowing much, and not being alone in that aspect."
The Celtics couldn't have asked for a better point in the schedule for their four newest players to have to receive a crash course on the playbook. While Crawford was thrown into the fire when he first joined the team on its recent five-games-in-seven-nights road stretch, he and the rest of the new guys have benefited from the C's having played just one game since that trip concluded a week ago.
"I didn't even know how hectic it was, to be real," Crawford said. "And then when I got back here I started to see how much it calmed down a little bit, getting to know my teammates, so it's good."
After defeating the Golden State Warriors Friday night, Boston didn't schedule a formal practice Saturday and held a brief open session on Sunday. The downtime was crucial for the new players' acquisition process.
"It's been very helpful," Randolph said of the schedule break. "To be able to have the game Friday and have two to three days of practice to be able to go over things more -- to pick up an NBA offense, that's not something you can do in one day. It takes at least two, three, or four days, so it's been good to be able to have that time to kind of build on."
Though they've only been around their new teammates for a short period of time, several of the Celtics' veterans have liked what they've seen. Paul Pierce was keeping a stray eye on the new guys scrimmaging as he spoke with reporters prior to Monday's session.
"This is huge that we had these few days to get these guys (in)," Pierce said. "As you see right now, they have a chance to go over plays, get a better understanding of the system. I mean, it's definitely not the same as being here from day one of training camp, but coming from where they came from just a week ago not doing any practicing, just kind of getting put out there in the mix, anything is good right now whenever we can get time in the gym with them."
While still getting familiar with each new player's individual game, Pierce said he's very interested in seeing what they can contribute to Boston moving forward.
"Definitely, because they're going to be huge in determining our playoff success," Pierce said. "I really like Crawford, what he's capable of doing. I think he can be an X-factor for us, along with (Williams). The other guys, I'm still trying to figure them out, Shavlik and D.J., so this is a good time for us to get this time in and I'm glad we have enough games left in the season to implement them to figure out their roles."