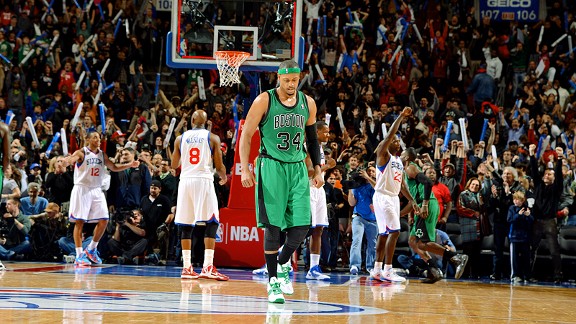 Jesse D. Garrabrant/Getty Images
Paul Pierce and the Celtics are hoping to reverse their fortunes in Philadelphia.The Boston Celtics (31-27, 10-18 road) visit the Philadelphia 76ers (23-35, 17-15 home) on Tuesday night at the Wells Fargo Center (7 p.m., TNT). Here's what to watch for:


* EIGHTY-SIX THE SIXERS?: The 76ers enter Tuesday's game seven games behind Milwaukee for the eighth and final playoff berth in the East (Boston holds a one-game edge over the Bucks, at the moment). After Doug Collins threw down the gauntlet for his team last week, the Sixers can either make a charge (as long as those odds would be) or roll over. The Celtics have to at least expect a desperate team -- one that has had great success against Boston in Philadelphia the past two seasons (the 76ers have won five of the last six at Wells Fargo, including postseason play).
* SYNERGY SNAPSHOT: Philadelphia ranks 29th in the league, offensively, averaging 0.877 points per play, according to Synergy Sports data. Both Jrue Holiday (0.84 ppp, 33rd percentile) and Evan Turner (0.82 ppp, 27th percentile) have struggled to efficiently lead the offense (combining for 36.6 percent of total offensive possessions). Defensively, the 76ers rank 11th while allowing an average of 0.913 points per play. Philadelphia does a great job limiting transition opportunities and has masked some of its offensive woes with defense.
* MAKE THEM MAKE MISTAKES: Despite their struggles, the 76ers still value the ball. Philadelphia has the second best turnover percentage in the league (13.9 percent). It will be interesting to see if Avery Bradley, whose season ended last year during a playoff series against the 76ers, can force Philadelphia to make uncharacteristic mistakes.
* BACK-TO-BACKS IN FOCUS: While the tail end of back-to-backs are usually the focal point for Boston -- and Wednesday's visit to Indiana, a potential playoff foe, is the current 2-7 matchup -- the Celtics have actually been slightly worse on Night 1 (6-9) of back-to-backs, compared to Night 2 (7-8). What's more, Boston is 0-4 on the first night of road-road back-to-backs this season. Given Boston's struggles away from TD Garden, there will be a heavy emphasis on starting this brief two-game trip on the right foot.
* A LOOK AT NEW FACES?: With two tip-offs in a 24-hour span, Celtics coach Doc Rivers hinted that he'd loosen his rotation during this back-to-back. Rivers leaned heavy on his eight regulars with only one game over the past seven days. Now, it's likely that backup guard Terrence Williams will see more time, as could 10-day contract big men Shavlik Randolph or D.J. White.