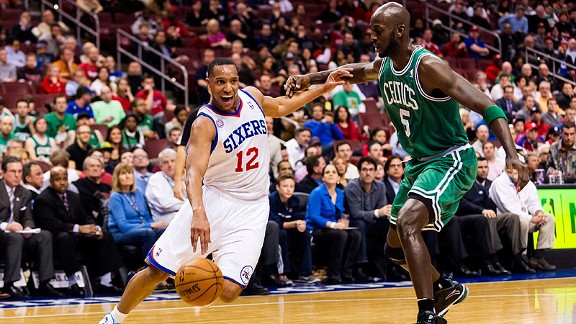 Howard Smith/USA TODAY Sports
Boston's Kevin Garnett tries to slow Philadelphia's Evan Turner.Rapid reaction after the Boston Celtics defeated the Philadelphia 76ers 109-101 on Tuesday night at the Wells Fargo Center:


THE NITTY GRITTY
Avery Bradley showed he can be a game-changer on the offensive side of the ball, scoring a season-high 22 points on 10-of-15 shooting to go along with seven rebounds and five assists to pace a sloppy Boston squad to a win on the first night of a road back-to-back. Paul Pierce added 18 points on just 10 shots (making all four 3-pointers he put up) while adding 11 rebounds and seven assists. Jeff Green (16 points) and Jordan Crawford (12 points) provided a bench spark for Boston, which had five players in double figures while shooting 50.6 percent from the floor (and 57.9 percent from beyond the 3-point arc). Thaddeus Young (19 points, 10 rebounds) and Evan Turner (18 points, 9 rebounds, 7 assists) paced the 76ers.
TURNING POINT
A Boston turnover spree -- they finished with a season-high 22 -- helped chip a 12-point advantage down to five in the final 73 seconds of the third quarter. Unfazed, the Celtics opened the fourth frame on a 9-0 burst highlighted by a pair of Crawford buckets -- a 3-pointer and one of those cover-your-eyes drives through traffic for a layup -- as Boston opened an 88-74 lead with 9:27 to play.
C'S OVERCOME TURNOVERS
The Celtics turned the ball over just twice in the first quarter, but got particularly careless with the ball in the second half. Boston finished with a season-high 22 turnovers that Philadelphia parlayed into a whopping 30 points, staying in the game in the process. The 76ers, who entered as the second-best team in the league in terms of turnover percentage, gave the ball up 14 times (leading to 19 points).
WHAT IT MEANS
This one won't get premium placement in the 2012-13 season scrapbook -- it was an ugly, ugly win -- but Boston has won three straight to move a season-best five games over .500 at 32-27. The Celtics nudge within 1½ games of the fourth seed (lurking behind a cluster of Chicago, Brooklyn and Atlanta). Boston doesn't get much time to savor it as it departs immediately for Indiana and the second night of a back-to-back against the Pacers (a potential playoff preview as, if the season ended tonight, it would be the East's 2-7 matchup).