You could hear the snickers of disbelief.
Coach Doc Rivers was leaning against a wall outside the Celtics' locker room 13 months ago practically pleading to a group of skeptical reporters that Avery Bradley would eventually emerge as an offensive weapon for his team.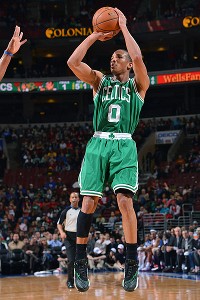 Jesse D. Garrabrant/NBAE/Getty
Avery Bradley fires away with a jumper in Philadelphia.Through 49 career games to that point, Bradley was shooting a mere 35.5 percent (50-of-141), including 6.3 percent beyond the 3-point arc (1-of-16). The 21-year-old Bradley was stuck battling second-round draft pick E'Twaun Moore for limited minutes at the shooting guard spot and showed few signs of offensive potential.
Rivers was insistent.
"Avery's a better shooter than what he's shot, and we can't figure it out. Honestly," Rivers said on Jan. 29, 2012. "He makes [shots] in practice, he makes them in the gym when he's working out. The only guess is that the game is still a little too fast for him. And at some point, a ball will go in, he'll slow down and he'll make the in-between jump shots. Because that's what he can make; he can make that consistently."
It all seems preposterous now, particularly with what has occurred in the 400 days since that moment. Bradley actually made 10 of his next 14 shots after Rivers' declaration, lighting a fuse that saw him emerge as a two-way player, which ultimately earned him Hall of Fame shooting guard Ray Allen's spot in Boston's starting lineup by season's end.
Rivers already took his victory lap last year, but he can take another one today after Bradley erupted for a season- and team-high 22 points on 10-of-15 shooting to go along with seven rebounds and five assists in Tuesday's 109-101 triumph in Philadelphia.
Bradley did a little bit of everything on the offensive end, knocking down a couple of 3-pointers and producing one particularly thunderous fourth-quarter follow slam. But he was also 4-of-5 shooting in the midrange, showcasing that in-between jumper that Rivers always believed he had in his repertoire.
Oh, and Bradley overcame a little bit of a slow start against Jrue Holiday to do the sort of things at the other end of the floor that make him a legitimate Defensive Player of the Year candidate.
"He was good all-around," Rivers told reporters in Philadelphia. "His defense was terrific and he's starting to make the little pull-up jump shot. He's been making the 3 for the most part; he keeps shooting them and we want him to. I'm really happy with his pull-up off the dribble. That's a big shot for us later and he's starting to make that. That's big."
In 28 games this season, Bradley is averaging 9.7 points on 43.1 percent shooting with 1.8 assists per game. Over his past five outings, those numbers have jumped to 13.8 points on 57.4 percent shooting, while also adding 3.2 assists per game. His lockdown defense remains the focal point for observers, but Bradley is providing an offensive boost -- all while directing the offense as point guard Rajon Rondo rehabs from ACL surgery.
Bradley was spectacular in Philadelphia, the same place where shoulder woes ended his breakout 2011-12 season during last year's playoff run. Bradley underwent double shoulder surgery during the offseason, and one of the fears was that his offensive game would regress. He made eight of his first nine shots against the 76ers on Tuesday, suggesting that has not happened.
Bradley still has strides to make with his offensive consistency. According to Synergy Sports data, he averages 0.866 points per play, which ranks him in just the 42nd percentile among all league players. Bradley has struggled to generate consistent points in transition, but maybe that's why Rivers was raving about the pull-up jumper off the dribble, something that could make Bradley more of a threat with the ball in his hands in transition.
Earlier this week, Celtics captain Paul Pierce openly wondered about whether Bradley's focus on defensive pressure had hindered his ability to provide even more on offense.
"He sacrifices so much, I believe he could give us a lot more offensively, but he's so focused on the defensive end, it has an impact on the whole team," Pierce said.
On Tuesday, Bradley showcased that ability to help out at both ends. He's often noted that his defense fuels his offense and, with that in mind, it shouldn't be hard to get him going most nights.
It's clearly in him, but Rivers knew that all along.