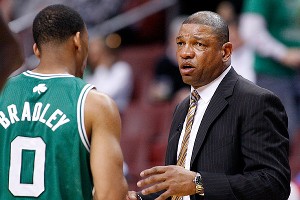 AP Photo/H. Rumph Jr.
Celtics coach Doc Rivers chats with Avery Bradley.Rather than harp on his club committing a season-high 22 turnovers in its 109-101 victory over the Philadelphia 76ers on Tuesday night, Boston Celtics coach Doc Rivers praised his team's effort in grinding out one of the uglier wins of the season.
"It's amazing, we turned it over and won," Rivers told reporters in Philadelphia. "That's what (the 76ers) do -- they do a great job of forcing turnovers. But overall, I just loved our effort. I thought the zone was huge for us tonight. The new guys, I thought, all came in and gave us a lift, so it was just a good team win."
Rivers alluded to the new guys giving Boston a lift and Jordan Crawford provided a needed second-half scoring spark, finishing with 12 points. After trudging through a 1-for-4 shooting effort in the first half, Crawford was encouraged by his teammates at halftime and responded by scoring 10 second-half points on 3-of-3 shooting from the field (including 2-for-2 from 3-point nation).
"(Crawford is) comfortable," Rivers said. "We got on him at halftime. It's funny, Kevin (Garnett), all the guys, they were on him at halftime because he missed a couple shots and you could see he didn't want to shoot anymore and our guys, they beat me. Before I had to say it, 'This is what you do. You shoot the ball. Shoot the ball. They go in, they go out. Sometimes they don't make it. But you've got to keep shooting it.' And I thought he showed that when he came back out, he was looking for his shot. That's what we need him to do."
Crawford also added four rebounds, three assists and a steal to his totals. Asked if he thought Crawford was too hesitant to shoot in the first half, Rivers dismissed the notion as a young player trying to integrate himself around a host of veteran counterparts.
"They're not used to playing with Garnett and Paul Pierce and Jason Terry and they want to fit in," Rivers said of scorers like Crawford being hesitant when first joining Boston. "And we want them to fit in. We want them to do the right thing. The other thing he's doing -- he's making great passes. He's playing the right way. But what we tell everyone, 'If you're missing your shot, we have no problem with that. Keep shooting it.'"
Boston led by 15 at one point, but never established a truly comfortable advantage because of its rash of turnovers. But Rivers complimented his team's ball movement (the C's finished with 34 assists on 42 made field goals) as one of the key factors in holding off all of Philadelphia's runs.
"That's the new us in a lot of ways, is the ball kind of finds the open guy," Rivers said. "We just come down and, when they made a run they blew up a couple of our plays with their good defense. And the ball just kept moving and eventually it found an open shooter. It's simple, but it's hard to do unless you buy in, and everybody's bought in."
Boston was paced by one of Avery Bradley's finest offensive efforts of the season. Bradley chipped in a season-high 22 points on 10-of-15 shooting to go along with his usual aggressive defense. A significant number of Bradley's points came on mid-range and pull-up jump shots, which Rivers highlighted as a welcome growth in Bradley's repertoire.
"He was good all-around," Rivers said. "His defense was terrific and he's starting to make the little pull-up jump shot. He's been making the three for the most part. He keeps shooting them. We want him to. I'm really happy with his pull-up off the dribble. That's a big shot for us later and he's starting to make that and that's big."