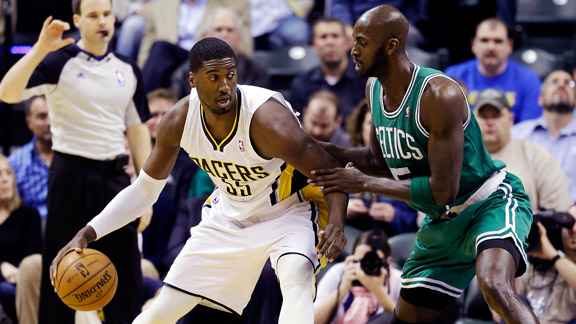 AP Photo/Darron Cummings
Indiana's Roy Hibbert works against Boston's Kevin Garnett.INDIANAPOLIS -- Rapid reaction after the Boston Celtics defeated the Indiana Pacers 83-81 on Wednesday night at Bankers Life Fieldhouse:


THE NITTY GRITTY
Jeff Green muscled in a layup with 0.5 seconds remaining off a feed from Kevin Garnett -- a beautifully designed final play as the Celtics overcame a 10-point, fourth-quarter deficit to stun the Pacers on their home floor. Garnett scored a team-high 18 points to go along with 10 rebounds, while Avery Bradley and Paul Pierce each had 13 points. Paul George scored a team-high 16 points for Indiana, while David West (11 points, 16 rebounds) and Roy Hibbert (12 points, 12 rebounds) each had double-doubles.
THE FINAL MINUTE
The Celtics simply refused to roll over and battled back multiple times in this game. Bradley sneaked free for an uncontested layup with 1:21 to go to tie the game at 81. After each team missed chances to pull ahead, the Celtics got a final-shot opportunity. Green fed Garnett on the left elbow, then curled around and received the ball, storming the baseline. He fumbled the ball a bit but was able to muscle it in for the winning bucket with a half-second to go.
C'S CAN'T CLOSE FIRST HALF
With the Pacers threatening to open a double-digit lead, the Celtics got some momentum late in the first half by making it a one-possession game. But things unraveled in a hurry. Looking to go 2-for-1, Bradley got blocked on a baseline drive and George delivered a dunk in transition. Pierce turned the ball over the next trip down, and West converted a three-point play as Indy's lead went back to nine. The Pacers pushed their lead as high as 14 midway through the third quarter (Lance Stephenson capped a 7-0 run with a dunk for a 63-49 lead).
C'S MAKE THEIR RUN
The Celtics knocked their deficit to 10 after three quarters and scored the first five points of the final frame to make things interesting again. When the Pacers went cold, Boston clawed within a point, but George Hill scored eight points for Indiana in 61 seconds -- two 3-pointers and a dunk in transition after a Hibbert block -- and the lead was soon at nine (81-72 with 4:36 to go). But Boston simply would not go quietly, storming back and setting up Green's heroics.
MENACE IN THE MIDDLE
In just over eight minutes of first-quarter play, Hibbert posted 12 points (on 6-of-9 shooting) with seven rebounds and a block while absolutely dominating play at the defensive end of the floor. The Pacers led 27-19 after the frame. He didn't score another point the rest of the night.
D.J.'S DEBUT
D.J. White, in his third game with Boston since inking a 10-day contract, made his debut to start the second quarter. He played 3:43, grabbing two rebounds and blocking two shots, while missing his only field goal attempt.
KG JOINS TOP 10 IN BOARDS
After leapfrogging Hakeem Olajuwon last week, Garnett shuffled into the top 10 all time in rebounds, moving past Wes Unseld into 10th place with 10 caroms on the night. Garnett has some work to do to move higher -- Walt Bellamy is 467 rebounds ahead of him in ninth place.
TECHNICALLY SPEAKING
Garnett and Hibbert got matching technicals late in the fourth quarter for some post-whistle jostling. For Garnett, it's his team-leading seventh technical foul of the season.
WHAT IT MEANS
Wow, what a win for Boston. The Celtics could have rolled over on the second night of a back-to-back multiple times but hung in there and found a way to emerge with a gutsy win. That's four in a row for Boston, which is a season-high six games over .500. The Celtics get a day off before hosting the Hawks on Friday night at TD Garden. They are back on the road for two games after that, including Sunday's national TV battle in Oklahoma City.