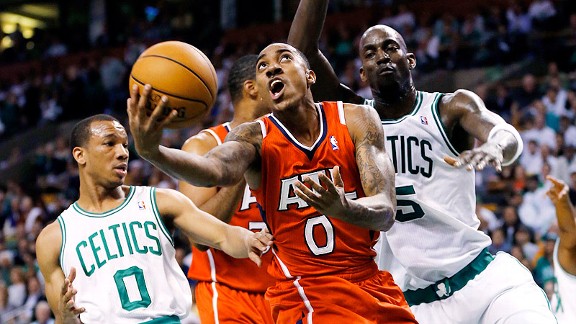 Greg M. Cooper/US Presswire
Kevin Garnett and Avery Bradley will try to contain Jeff Teague and the Hawks.The Boston Celtics (33-27, 21-9 home) host the Atlanta Hawks (34-26, 15-16 away) on Friday night at TD Garden (8 p.m., ESPN). Here's what to watch for:


* SEEDINGS IN FOCUS: The Celtics enter a game back of the Hawks in the Eastern Conference with a chance to pull even. In fact, a Boston win tonight, coupled with a Chicago loss against Utah, would surge the Celtics into a tie for the fifth spot. As coach Doc Rivers has stressed to his players, it's far too early to be worrying about jockeying for position, but having already toppled the Pacers on Wednesday, Boston has another chance to take down a team in front of it in the standings.
* DEFENDING KORVER: You can make a case that if the Celtics had been able to contain Kyle Korver during the last meeting in Atlanta, Rajon Rondo might have never been on the floor in the final moments of regulation and torn his ACL. But Korver erupted for eight 3-pointers overall as the Hawks rallied from a monster 27-point deficit for a double-overtime triumph. The Celtics have done a phenomenal job defending the 3-point line otherwise since the start of the new calendar year (they rank first in 3-point defense since Jan. 2) and need to maintain that against the Hawks. Atlanta is third in the league in 3-point makes per game and fifth in percentage.
* HOME IS WHERE THE WIN IS: According to ESPN Stats and Info, the Celtics have won their last eight home games, their longest home winning streak of the season. It is also their longest home win streak since winning 12 straight spanning the 2008-09 and 2009-10 seasons (March to November). The Hawks have lost each of their last three road games overall, their last road win came on Feb. 27 against the Jazz.
* SLOWING THE PASSING GAME: More from ESPN Stats and Info: The Hawks are one of the best passing teams in the NBA. They rank second in the league, averaging 24.5 assists this season (Spurs, 25.3). What's more, the Hawks have assisted on 65.3 percent of their made field goals this season, which leads the NBA (Boston is fourth at 62.6 percent). Will Boston throw more of its "manwich defense" at the Hawks in hopes of flustering them? The number to watch: 24 assists. The Hawks are 26-7 when they reach that mark; 8-19 when they don't.