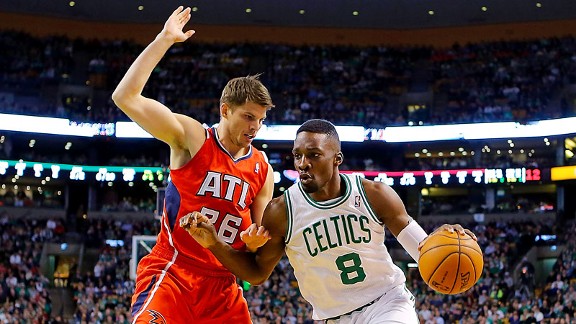 Jared Wickerham/Getty Images
Jeff Green drives past Kyle Korver on Friday night at TD Garden.BOSTON -- Rapid reaction after the Boston Celtics defeated the Atlanta Hawks 107-102 in overtime on Friday night at TD Garden:


THE NITTY GRITTY
Jason Terry scored the game's final five points in overtime, including a clutch go-ahead 3-pointer with 35 ticks to play, while finishing with 19 points, 5 assists and 4 rebounds over 36 minutes. Paul Pierce added a team-high 27 points on 10-of-16 shooting to go along with 7 rebounds and 7 assists, while Kevin Garnett (17 points) and Jeff Green (12 points) also landed in double figures. Josh Smith scored a game-high 32 points on 13-of-27 shooting (flirting with a triple-double while posting eight rebounds and nine assists). Jeff Teague (26 points) and Al Horford (22 points, 13 rebounds) also had big nights for the Hawks.
SECOND-UNIT SURGES IN FOURTH
The Celtics were clinging to a two-point lead in the opening minute of the fourth quarter, but scored the game's next 10 points with two Crawford buckets accounting for half the output. Terry turned a steal into a pull-up jumper and Green added a 3-pointer as Boston surged ahead 82-70 with 8:32 to play. Shortly after the run, Green produced Boston's highlight of the night, driving baseline and finishing with an emphatic slam on the other side of the rim with two Hawks trailing. But the Hawks weren't about to go quietly ...
FREE BASKETBALL
The Hawks managed to rally from a 12-point hole to tie the game at 92 when the Celtics somehow lost track of Kyle Korver in a three-point game. Korver buried a triple from the right wing with 1:31 to play setting the seesaw into motion. Pierce hit an 18-foot stepback, but Horford responded by finishing an easy alley-oop lob from Smith to tie it again with 55 ticks to play. The Celtics got a late chance to pull ahead, but Garnett missed a quality look at a 19-footer. The Hawks' final gasp with 2.2 seconds to play saw Smith's fadeaway over Brandon Bass land off the mark.
OVERTIME: JET SOARS
Boston was playing its franchise-record 11th overtime game of the season and its 16th overtime session. The teams traded some huge shots (Green, Smith and Pierce each with clutch 3-pointers) and were still tied with less than a minute to play but Terry -- who was called for an illegal screen that negated a Garnett hoop moments before -- drilled a 3-pointer from the top of the arc for a 105-102 lead with 35 seconds to go. He added two free throws to seal it.
KG HONORED FOR REBOUNDS
After moving into the Top 10 on the NBA's all-time list for rebounds on Wednesday night in Indiana, the Celtics honored Garnett by broadcasting the moment in the arena during the first timeout. Garnett got an ovation and saluted the crowd.
WHAT IT MEANS
The Celtics (34-27) have won five straight to move seven games over .500. What's more, they've moved into a tie with Atlanta for the sixth seed in the Eastern Conference. Boston is now 7-4 in overtime games this season. The Celtics get Saturday off before heading back out on a brief two-game road trip that includes Sunday's national TV battle in Oklahoma City before concluding in Charlotte on Tuesday. A little three-game homestand (vs. Toronto, Charlotte and Miami) awaits after that.