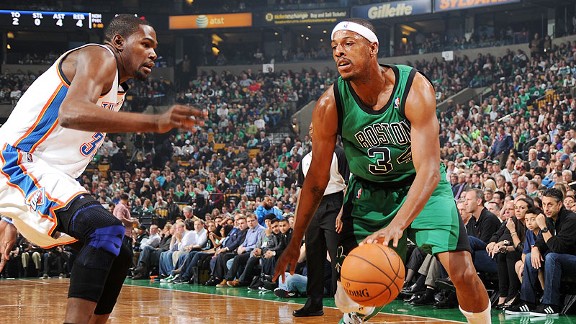 Brian Babineau/NBAE/Getty Images
Boston's Paul Pierce looks to drive on Oklahoma City's Kevin Durant.The Boston Celtics (34-27, 12-18 road) visit the Oklahoma City Thunder (46-16, 27-4) on Sunday afternoon at Chesapeake Energy Arena (1 p.m., ABC). With the matinee tip, here's an early look at what to watch for:


* MEASURING-STICK GAME: The Celtics are rolling, having won five straight and 14 of 18 since losing Rajon Rondo for the season. That stretch has seen them notch wins over other Eastern Conference playoff foes like Miami, Indiana, and Atlanta. Now Boston will get a taste of one of the West's juggernauts in an Oklahoma City team that's won four straight. There's a lot to be encouraged about with Boston's recent play, but this should be a nice gauge of where the Celtics are at. Boston already won the first meeting 108-100 earlier this season at TD Garden.
* SYNERGY SNAPSHOT: Offensively, the Thunder rank second in the league averaging 1.007 points per play, according to Synergy Sports data (only the Heat are better at 1.019 ppp). Oklahoma City ranks first in spot-up shooting (1.082 points per play) and second in both isolation (0.877 ppp) and transition (1.226 ppp). Those three plays types account for more than 45 percent of the team's total output. No surprise here, Kevin Durant is otherworldly, averaging 1.128 points per play, which ranks him in the 98th percentile. Russell Westbrook isn't nearly as efficient, but is still averaging 0.919 points per play and accounts for a team-high 24 percent of total plays (ahead of Durant at 23.8 percent). Defensively, the Thunder rank sixth at 0.895 points per play. Old friend Kendrick Perkins remains the backbone here, allowing 0.761 points per play, a team-best among top rotation players. Thabo Sefolosha is the weakest link on defense (0.939 ppp, 19th percentile).
* GREEN IN FOCUS: Playing maybe the most inspired basketball of his career, Jeff Green returns to Oklahoma City for the first time since he, Nenad Krstic, and a first-round pick (Fab Melo) came to Boston in exchange for Perkins and Nate Robinson at the trade deadline in 2011. Green has been a big reason for Boston's recent success and, downplay it as he might, he'll likely have some extra incentive on Sunday. Back in November, he dubbed it "just another game" facing the Thunder for the first time in Boston, then responded with a then-season-high 17-point outburst. Expect the stone-faced Green to be amped up inside on Sunday.
* MAKE TURNOVERS HURT: Listen, the Thunder do a lot well. But one thing they are susceptible to is turnovers, ranking 26th in the league in turnover percentage. When opponents get sloppy, Boston has a propensity to get careless as well. The Celtics need to pounce on opportunities. And with Boston looking to crank the tempo recently, this one could be an up-and-down battle at times and the Celtics absolutely have to take advantage of every trip to match the Thunder's high-octane offense.