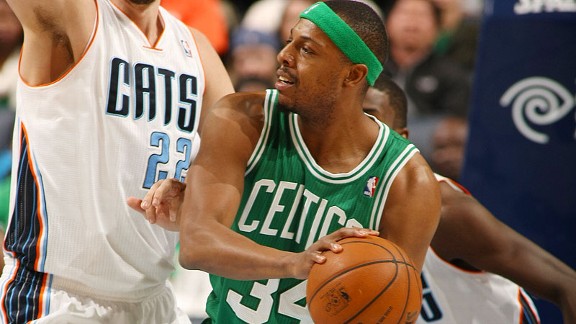 Kent Smith/NBAE/Getty Images
Paul Pierce and the Celtics visit the Bobcats on Tuesday evening. The Boston Celtics (34-28, 12-19 away) visit the Charlotte Bobcats (13-50, 7-24 home) on Tuesday night at Time Warner Cable Arena (7 p.m., CSN). Here's what to watch for:


* NOTHING GOOD HAPPENS IN CHARLOTTE: The Bobcats are easily the worst team in basketball and there's little to be gained when a win is expected. Case in point: Boston limped into Charlotte last month coming off a triple-overtime win, then not only watching their seven-game winning streak get snapped, but saw Leandro Barbosa tear his ACL. Celtics coach Doc Rivers should have rested bodies that night and he should consider it again on Tuesday (at least with Kevin Garnett, especially on the front end of a back-to-back).
* SYNERGY SNAPSHOT: Offensively, the Bobcats rank 26th in the league averaging 0.881 points per play, according to Synergy Sports data. Charlotte thrives almost exclusively off plays that finish with the pick-and-roll ball-handler (4th overall). Defensively, the Bobcats are -- not surprisingly -- dead last allowing an unsightly 0.977 points per play. There is no play type that Charlotte defends particularly well, ranking 29th against spot-up shooting, which accounts for nearly a quarter of opponents total plays. Former Brookline High/UConn standout Jeff Adrien is the only player among the team's top 10 rotation players that ranks in the top half of league in defense, as all others stand in the 47th percentile or worse. Kemba Walker is the most attacked defender (11.4 percent of total plays) and allows 0.947 points per play, which ranks in the 17th percentile.
* HEY MR. DJ: DJ White played only four minutes as part of his first 10-day contract with Boston, but Tuesday's game might be an ideal chance to get him extended burn. White will be playing against his last NBA team, one he had a bit of a breakout season for in 2011-12, but wasn't brought back. He admitted last week that he's got some extra incentive for this one and -- particularly if Boston gives Garnett some extended rest -- it could be a chance for White and the younger players to show what they can do.
* NO CHARITY: The Bobcats rank near the bottom of the league in most statistical categories, but one area they actually thrive in is getting to the free-throw line. Charlotte is fourth in free-throw attempt rate (30.8 percent). What's more, they limit turnovers (sixth in turnover rate at 14.6 percent). That's half the battle on offense, but the Bobcats simply don't score with enough efficiency to to take full advantage of their strengths.