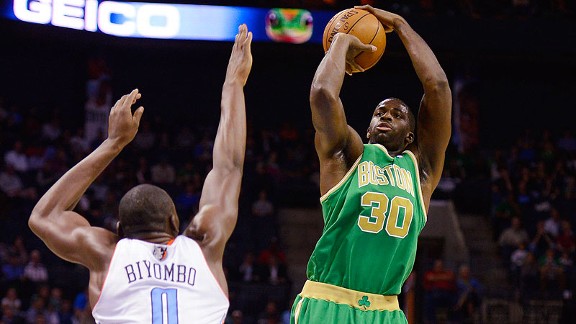 Curtis Wilson/USA TODAY Sports
Brandon Bass couldn't carry the Celtics in Charlotte.Rapid reaction after the Charlotte Bobcats defeated the Boston Celtics 100-74 on Tuesday night at Time Warner Cable Arena:


THE NITTY GRITTY
Well, at least Paul Pierce got a night off. Gerald Henderson scored a career-high 35 points on 11-of-19 shooting, while Josh McRoberts put up a double-double (13 points, 10 rebounds) with one loud fourth-quarter alley-oop finish as the Bobcats led by as many as 28 points and defeated Boston for the second time in about a month's span. Jeff Green and Jordan Crawford each had a team-high 14 points (but were a combined minus-38 overall in plus/minus), while Brandon Bass had maybe the only quality effort (10 points, 6 rebounds). Kevin Garnett, who probably should have taken the night off as well, labored through 2-of-10 shooting with five points and two rebounds over 20:31.
TURNING POINT
A one-possession game at halftime, the Bobcats scored the first seven points of the second half and their lead only briefly fell back to single digits. Charlotte was up 15 after three quarters and, after Ben Gordon's 3-pointer moved the lead to 20 with 10:19 to go, Celtics coach Doc Rivers waved the white flag and trotted out a trash-time lineup that featured 10-day contracters Shavlik Randolph and DJ White playing alongside fellow Chinese Basketball Association alum Terrence Williams, Jordan Crawford and Courtney Lee.
RANDOLPH DEBUTS; WHITE VS. FORMER TEAM
Inked to his second 10-day contract on Monday, Randolph made his Boston debut and chipped in four points on 2-of-4 shooting with four rebounds and five fouls over 17:42. DJ White, who most recently played in the NBA for the Bobcats, added three points on 1-of-4 shooting with four rebounds over 16 minutes.
WHAT IT MEANS
Well, that was a hot mess. The Celtics got a glimpse of what a Pierce-less offense would look like (and it's frightening, particularly with Garnett struggling with his shot). Charlotte is just a house of horrors for Boston (the Celtics had a seven-game winning streak snapped there last month and Leandro Barbosa tore his ACL). The Bobcats snapped a 10-game losing streak in dominant fashion. The good news for the Celtics: There's another game Wednesday night back in Boston against the Raptors and a chance to put this one in the rearview mirror quickly. But with every game important to playoff seedings, the Celtics fumbled an opportunity for a gimme in Charlotte and instead got flat-out embarrassed.