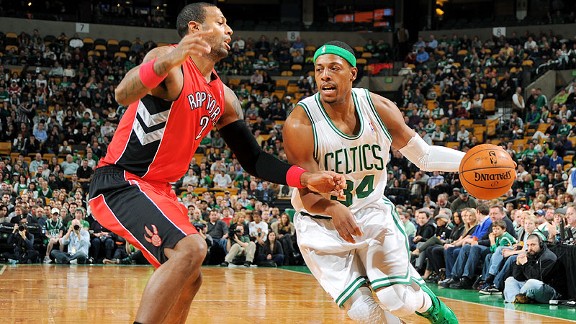 Brian Babineau/NBAE/Getty Images
The Celtics will have Paul Pierce back on the floor Wednesday night versus Toronto.The Boston Celtics (34-29, 22-9 home) host the Toronto Raptors (25-39, 9-23 away) on Wednesday night at TD Garden (7:30 p.m., CSN). Here's what to watch for:


* CAPTAIN'S QUARTERS: The Celtics gave Paul Pierce his first night off of the season on Tuesday in Charlotte and their offense looked disheveled without him. Boston should get a boost with a fresh captain on the floor Wednesday. Pierce averaged 19.5 points on 49.1 percent shooting last week while earning a nomination as Eastern Conference player of the week as Boston went 3-1.
* ANOTHER REST STOP?: Kevin Garnett is marred in a three-game shooting funk having connected on a mere 14 of his last 45 shots (31.1 percent). After giving Garnett his first game off of the season last month in Phoenix, Celtics coach Doc Rivers suggested more rest would follow. Even with Boston having dropped two in a row -- and Milwaukee creeping 1½ games back at the top bottom of the East playoff ladder -- Wednesday's game might be an ideal spot for some forced rest, particularly on the second night of a back-to-back. Garnett hates being in a shooting funk and wants to play his way out of it, but with a Monday showdown looming against the East-leading Heat, a day off Wednesday (or Saturday's rematch with Charlotte) might be a rare chance for Garnett to catch his breath again down the stretch.
* HANGING FROM THE RAPTORS: The Celtics have won both matchups against the Raptors this season -- and the last four overall in Boston by an average of 24.3 points -- but needed to rally from a 10-point, fourth-quarter deficit in Toronto last month. The Celtics might catch a bit of a break as Rudy Gay is battling a stiff back that kept him off the floor Sunday (Gay traveled with the team, but is listed as questionable).
* STAT SNAPSHOT: The Raptors quietly rank 12th in the league in offensive rating (103.3) and third in turnover rate (14.1 percent). Translation: They take care of the ball and give themselves a chance to put points on the board. Defensively, well, that's another story. Toronto ranks 21st in defensive rating (104.4) and doesn't rebound very efficiently (21st in defensive rebound rate; 26th total rebound rate). With Pierce back, if Boston plays its recent brand of homecourt defense, this is a chance to quickly put a cringe-inducing effort in Charlotte in the rearview mirror.