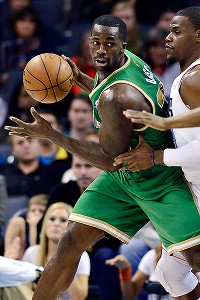 Curtis Wilson/USA TODAY Sports
Brandon Bass has been attacking the glass, but Boston is still struggling with him on the floor.Let's start with the good: Over the last two games, Brandon Bass has been a rebounding machine. He's attacking the glass with Kevin Love-like intensity, posting a defensive rebound rate of 34.1 percent (if maintained, it'd be second highest in the league behind only Reggie Evans) and a total rebound rate of 22.5 percent (that would put him in the top 3, if maintained). In each of the last two games, he's also produced highlight-worthy moments crashing the offensive glass and going right back up for loud second-chance points.
Yes, it's a small sample, but it's a big step in the right direction for Bass. And yet both his individual numbers and that of the team have been bafflingly bad this season.
Last year, Bass averaged 12.5 points and 6.2 rebounds over 31.7 minutes per game in 59 regular-season appearances, shooting 47.9 percent from the floor and finishing plus-158 in plus/minus overall. This season, he's averaged 7.7 points and 5.1 rebounds over 26.7 minutes in 63 appearances, shooting 45.8 percent and standing at minus-181 overall.
The steep downturn in shots is most puzzling, but Tuesday's game in Charlotte tells the story: Even without Paul Pierce on the floor and with Kevin Garnett struggling, Bass only put up six shots. Amazingly, that matches his high in shot output over six games in the month of March. He's been quite efficient with his shooting in those six games (18 of 32, 56.3 percent), yet Boston's offensive rating (points per 100 possessions) with him during that stretch is a lowly 94.4 and he's minus-32 in those games.
For the season, Boston's offense is two points better per 100 possessions when he's off the court (101.1 off; 99.1 on) and more than seven points better defensively (95.6 off; 102.8 off). Bass, who was one of the team's best individual defenders last season, has slowly been pulling his numbers up after a slow start, but it's been a slow crawl.
So why is Boston struggling to get Bass going this season?
Bass has denied he's suffered from any sort of confidence issues, but it simply seems like he's more hesitant to shoot this season. That's only natural when you're struggling, but what allowed Bass to thrive last season was that he didn't think twice about putting the ball up. Even in this ball-movement fueled offense without Rajon Rondo, where others have seen a boost in offensive production, Bass is still averaging less than seven shots over 29.5 minutes per game.
The other issue at play is lineups and Boston's lack of overall size. With Jeff Green excelling lately, it's caused his minutes to jump up and the Celtics simply have not been able to pair Green and Bass together for long stretches because of their rebounding woes. In 577 minutes together this season, lineups pairing Green and Bass are minus-167 overall and Boston's net differential is a staggering minus-15 points per 100 possessions with poor numbers in both the offensive (92.3) and defensive (107.2) ratings.
This has setup a bit of a baton pass for Green and Bass with Boston leaning on lineups that often pair Bass with pure bigs like Kevin Garnett and Chris Wilcox, which makes it tougher to keep him on the floor when those two are not.
Some observers have wondered if it would be better to move Bass to a reserve role, hoping second-unit minutes would give him a better chance at unleashing his offense. With Green playing as well as he has in that reserve role, Celtics coach Doc Rivers has suggested he hasn't put much thought into a swap.
The Celtics have to hope Bass can simply build off his recent production. That sort of inspired rebounding -- coupled with improved defensive play -- will keep him on the floor and that could help rebuild his confidence at both ends of the floor. Bass was a big part of Boston's success last postseason -- you'll remember him tasked with defending LeBron James in the biggest game of the season -- and they need to get him back to that level if they want to make a true charge again this year.
The last two games have been a step in the right direction. Bass is on the rebound.
Statistical support for this post provided by NBA.com.