WALTHAM, Mass. -- Boston Celtics coach Doc Rivers was being peppered with questions about playoff seedings and whether winning the Atlantic Division was a priority for his team when his eyes shot skyward and surveyed the 17 championship banners lining the walls inside Boston's practice facility.
"Where are those division banners?" he said. "I don't see one up there."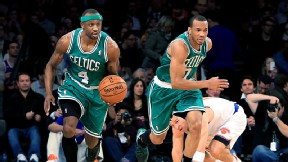 Debby Wong/USA TODAY Sports
Can the Celtics catch the Knicks? They can, but the Atlantic Division title isn't a top priority.The Celtics stand 3½ games back of the struggling New York Knicks, while the Brooklyn Nets are a mere 1 game back in the division race. Rivers acknowledged he's aware the Celtics have pulled closer -- with two head-to-head matchups looming with the Knicks and one with the Nets -- but downplayed putting too much thought into a late-season push.
"I just know the Knicks have been struggling, I can't tell you how far we're behind them," said Rivers. "But I think there's a team in front of us -- Brooklyn -- so I don't pay much attention to it. I really don't. To me, there's no reason to -- why? We have to focus on the next game, at least I do. I'm sure our players do at times, and everyone else does it for them, so I don't need to do it."
Added Rivers: "We would like to win the division. But I would rather win a world championship, if I had my choices. That's the key, you want to be healthy, be right, and give yourself the best opportunity to win in the playoffs."
Paul Pierce echoed his coach's sentiments, noting, "I'm sure if we hung Atlantic division banners up here, we'd be looking at lot more closely at them, but right now we're just floating under the radar, trying to win as many games as possible and play well going into the playoffs. I don't even know how many games we're back for the Atlantic Division. We don't even get a T-shirt for that."
The conversation with Rivers eventually swung to the jockeying for position in the Eastern Conference. Boston has shimmied up into a tie with Chicago for the fifth spot with matching 35-29 records. Brooklyn has a 2½-game edge for the fourth seed, which would likely give the beholder homecourt advantage in the opening round of the playoffs.
"[Homecourt] would be great, but that's -- if we get it, we get it," said Rivers. "That would be great to get, but it would not be [the most important]."
Rivers was then asked if he had begun pondering potential later-round scenarios. Earning a fourth or fifth seed comes with the likelihood of bumping into the East-leading Miami Heat in the conference semifinals.
"I don't know. That's the only thing I do think about, at times, is when," said Rivers. "I really thought the year -- 2010, I think it was; I don't know, I think that's the year we went to the Finals -- I thought it was important for us to face Cleveland early than later. I really thought that. Now, I didn't do anything to get us there, we just kinda fell into that position where we had them in the second round. I just thought with the injuries and, you remember Kevin [Garnett] was still struggling health-wise, I just thought, the earlier we faced the best team, the better in that year."
The Celtics were the fourth seed in the East in 2010 and toppled Miami in five games before upsetting LeBron James and the top-seeded Cavaliers in six games in the conference semifinals. Boston then beat Orlando in six games in the conference finals before falling to the Lakers in seven games.
Would a second-round matchup with the Heat be more advantageous for Boston this year?
"This year, I don't know," said Rivers. "I don't know who we are yet, as far as health-wise."
Rivers went on to explain the balance between being as fresh as possible and being ready to play a conference giant. He noted how, last season, he didn't think Boston would have been ready to push the Heat as hard as it did (losing in seven games) if the Celtics had drawn them in the conference semifinals.
"I thought the earlier we faced [Cleveland in 2010], the better because we would not be beat up, because our age and stuff," said Rivers. "I wanted to face them where I thought we were at our peak. Last year, I think that would have been the opposite, if we had to face Miami in the second round, we were not ready. By the third round we were. So it's just -- who knows? I can't figure that out."