WALTHAM, Mass. -- Allow Jason Terry to tell you what he thinks of the Miami Heat's 20-game winning streak.
"Not really impressed with it or anything that they do," said Terry, who of course has a history with Miami from his Dallas days when the two teams met in the 2011 Finals. "So, for me, it's more about what our team is doing and how we're coming together as a unit."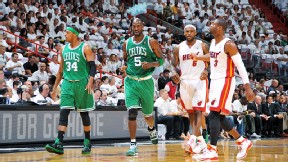 Jesse D. Garrabrant/Getty Images
The Celtics don't really care about Miami's 20-game winning streak.Silly as it may sound, Terry suggested the Celtics are more concerned with earning some revenge from the bottom-dwelling Charlotte Bobcats on Saturday than the expansive winning streak the East-leading Heat might be carrying when the visit TD Garden on Monday.
With two more wins before Monday's game, the Heat will be tied for the second longest win streak in NBA history (22 games by the 2007-08 Houston Rockets) when they visit Boston. Ironically, it was this Kevin Garnett and Paul Pierce core on the floor when the Celtics snapped the Rockets' streak on March 18, 2008 -- five years to the day of the Miami-Boston matchup.
Asked if he wants the Heat to still be carrying that streak on Monday, Pierce offered, "I really don't even care. I hope they lose every game the rest of the season. I just worry about what this team does."
That said, Pierce admits you can't avoid the hype around Miami's streak.
"It's rare when you've got a team that plays so well to be able to do that," said Pierce. "It's hard not to keep track of it. Anytime you go to NBA.com or ESPN.com, it's going to be right there. It's very impressive what they're doing. It is what it is. But I think they don't care about the winning streak."
The Celtics put together a 19-game winning streak early in the 2008-09 campaign coming off their title season. The Heat are in a similar position, which isn't lost on Boston coach Doc Rivers.
"It's impressive, it's really impressive," said Rivers. "The year after we won it, I think we won [19] in a row, right before Kevin went down [with a season-ending knee injury], and it's hard to do -- for a lot of reasons. But it's harder to do for a defending champ, because every night is the other team's biggest game. And the fact that they are doing it under those circumstances, is pretty impressive."
But Rivers maintained the company line about the streak.
"I don't really care," he said. "We're going to play them one way or another, whether they have a streak, or coming off a loss. We'll be ready, I'm sure they will be."