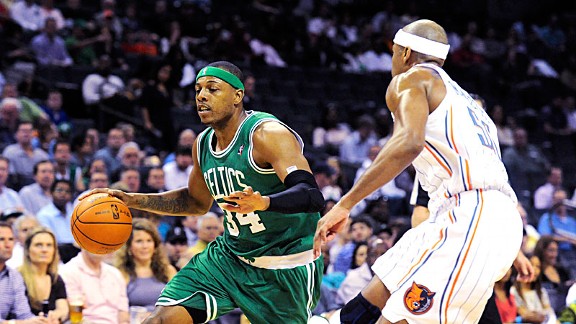 Sam Sharpe/US Presswire
Paul Pierce missed Tuesday's game in Charlotte, but will be back on Saturday.The Boston Celtics (35-29, 23-9 home) host the Charlotte Bobcats (14-51, 6-27 away) on Saturday night at TD Garden (7:30 p.m., CSN). Here's what to watch for:


* PLENTY OF MOTIVATION: The only positive takeaway from absorbing a 26-point loss to the worst team in basketball four days ago? The Boston Celtics won't get caught looking past the Bobcats on Saturday night. Even with a Monday-night showdown looming against the East-leading Miami Heat (and their 21-game winning streak), Boston will have plenty of motivation against a team that likely won't even reach 21 wins this season. Hop HERE for more on a Celtics squad eager to atone for a lifeless effort in Charlotte on Tuesday.
* HENDERSON IN FOCUS: Gerald Henderson erupted for a career-high 35 points in Tuesday's win over Boston. He'll have a bull's-eye on his back this time around. Henderson has been a fairly efficient scorer this season, averaging 0.939 points per play and ranking in the 66th percentile among all league players, according to Synergy Sports data. Henderson has been a terrific spot-up shooter (1.116 points per play) and generates a lot of opportunities in transition (16.6 percent of his plays come that way), but it's likely the antennas will be up for Boston's backcourt of Avery Bradley and Courtney Lee.
* REST STOP: The Celtics will be coming off consecutive days off, while the Bobcats lost Friday night in Toronto (Charlotte has lost 11 of its last 12 overall). Boston has actually been fairly mediocre coming off two days' rest, posting a mere 4-5 record this season (by comparison, they are 6-0 after three days' rest). Charlotte is 3-14 playing on no day's rest.
* HOME SWEET HOME: The Celtics have won 10 straight at TD Garden. You'd have to go back to Jan. 24 to find their last loss there (against the Knicks). The Celtics own a defensive rating (points per 100 possessions) of a minuscule 94.5 in 32 home games this season (it jumps up to a staggering 104.3 on the road). This is Boston's ninth Saturday game of the season (the Celtics are 5-3 overall, including 2-0 at home.